Top 5 possible destinations for Declan Rice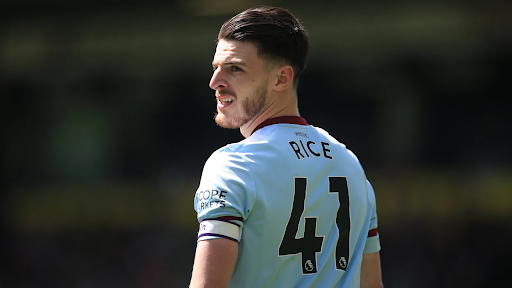 Many teams are interested in signing Declan Rice
For footballers, it is essential that failures, especially at the youth level, are seen as stepping stones towards the path of success, instead of being the first nail in the coffin. The story of Declan Rice, one of the finest central midfielders England has produced in recent times, is a fine example to explain this statement.
Born in Kingston upon Thames, London, Rice was signed by Premier League giants Chelsea back in 2006, when he was only seven years of age. He enjoyed his formative years spent with the Blues and it seemed that despite his tender age, everything had already fallen in place for him.
But the house he built collapsed like a pack of cards in 2014 when Chelsea decided he was not good enough to draft in their subsequent age-group teams. The West London team has a history of letting go of generational talents, and in that list of superstars that features Mohamed Salah and Kevin De Bruyne, Rice is another notable mention.
Being only 14 years of age, Rice could have chosen to accept failure as his fate and given up, but instead, he chose to prove his doubters wrong by consistently improving his game. He did not have to wait long to find a new opportunity as West Ham United knew very well about the potential of the youngster, and they signed him in 2014 – the same year when he was released.
It took him only one year to sign a professional contract with the Hammers, and after a couple of fantastic years with the Under-23 team, he was eventually called up to the senior team in 2017. Since then, Rice's journey with the East London club has been nothing but magical.
He has played 195 matches for the Hammers and has single-handedly controlled the tempo in the middle of the park in most of those games. Besides that, he also has established himself as a vital player in the England setup.
However, though it is true that Rice would not have been the player he is had it not been for West Ham United's backing, he could leave the London Stadium if a bigger and better opportunity arrives. Though Rice's contract ends in 2025, his spectacular performances might urge many teams across Europe to splash the cash on him in the upcoming summer transfer window itself.
Check out five teams who might be interested in signing Rice:
1. Chelsea
Chelsea has emerged as the frontrunner to sign Rice, their former academy player. Though he was once asked to leave by the club, Rice still has many childhood friends in Chelsea with the likes of Reece James and Mason Mount at the Stanford Bridge.
The Blues' English contingent could persuade the midfielder into joining the two-time UEFA Champions League winners since Thomas Tuchel is likely to strengthen his midfield contingent ahead of the next season. Jorginho has not been in form ever since he won the 2020 UEFA European Championship with Italy, Saul is expected to be sent back to Atletico Madrid after an unimpressive role, while N'Golo Kante has been injury-prone over the last few seasons. Hence, Rice will be Chelsea's one-stop solution to numerous problems.
2. Manchester United
Manchester United is in dire need of reinforcements in every single position, barring perhaps goalkeeping, but their priority must be midfield. The Red Devils allowed both French midfielder Paul Pogba and Serbian midfielder Nemanja Matic to leave on free transfers after the conclusion of the 2021-22 season.
Besides that, Fred has been too inconsistent to be relied on, while Donny van de Beek was not particularly eye-catching in the few matches he played for Everton on loan. Quite understandably, newly-appointed manager Erik ten Hag will be scraping the barrel in terms of forming a midfield core, and Rice will hence prove to be an invaluable addition to their squad.
3. Manchester City
Manchester United's arch-rivals, Manchester City is not a team who will relate to problems regarding a thin squad. They have multiple backups in every department but come next season, Pep Guardiola's team might be short on midfielders.
The Citizens' long-term servant, Fernandinho has left the club on a free transfer, while some rumours also claim that Ilkay Gundogan is also looking for a move away from the Etihad Stadium. If the Germany international does leave, Rodri will be City's only recognized central midfielder, and Rice would hence fit into Guardiola's plans brilliantly.
4. Real Madrid
While Rice is expected to end up in a Premier League team, a few La Liga clubs might also stand an outside chance of securing his signature, provided they do join the race. One of those teams is Real Madrid, which recently won their 14th Champions League title.
While Toni Kroos and Luka Modric will both be a part of Los Blancos next season, it has to be admitted that they are nearing the dusk of their careers. Real Madrid will have the cash to splurge after failing to sign Kylian Mbappe from Paris Saint-Germain, and reportedly, manager Carlo Ancelotti might spend a significant portion of the available funds on midfielders. Hence, it will not be too much of a surprise if they eventually join the battle with the English clubs.
5. Barcelona
Among the five possible destinations for Rice on our list, Barcelona is looking the least likely, but certain developments could trigger a domino effect across Europe. Incidentally, Rice is not Manchester United's only midfield target, as they are looking to sign Frenkie de Jong from Barcelona as well.
This operation will be costly, and the Catalans will certainly receive a hefty fee for letting the Dutch midfielder go. If de Jong ultimately ends up at the Old Trafford, Xavi's team can use the sum generated to go all out for Rice.