Sadio Mane after joining FC Bayern: "There was no doubt in my mind right from the start – this is the right time for this challenge"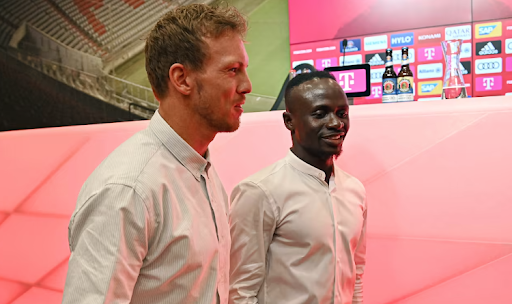 Julian Nagelsmann and Sadio Mane chatting before the press conference
FC Bayern Munich have officially announced the transfer of striker Sadio Mane from Liverpool.
The 30-year-old forward's contract with the German club runs until 30 June 2025. The Germans will pay an initial £27.5m fee with £7.5m in add-ons.
"I'm very happy to finally be with FC Bayern in Munich. We had a lot of talks and I felt the great interest of this big club from the start. So there was no doubt in my mind right from the start: This is the right time for this challenge. I want to achieve a lot with this club, also internationally. During my time in Salzburg I followed many FC Bayern games – I like this club very much!" 

the forward shared.
The Senegalese revealed that he had spoken to the club's management in advance about such a scenario. The peak of the player's career is over, he is over 30 and his market value is falling, having more than halved since 2019.
"Like I always say, my life is always about a challenge and when it came I said to the club that I want to leave, I want to go somewhere else to see a new challenge. It is not anything else, it is just a challenge because for me I want to always be challenging myself to get better and better."
"I sent a long text to say goodbye to everybody, which is normal. They were sad, as I was, but it is part of life. We just have to accept it. That was the plan from the beginning – to leave Liverpool in a very good way. It was fantastic in the club, in the dressing room. I am friendly with everybody, the coaching staff and even the kitchen staff, the ladies in the kitchen! So, for me leaving in a good way is so, so important – and [for] the fans as well."
The Reds have definitely taken care of the depth of the squad in advance by buying Diogo Jota, who does an excellent job in the positions of the departed attacker. The funds raised will definitely come in handy as part of the rejuvenation of the squad. We have yet to find out this summer who, apart from Darwin Nunez, will eventually become the future of the Merseysiders. One of the replacements being discussed is Martin Terrier, who has had a fine season in Ligue 1. The 25-year-old from Stade Rennais scored 20 goals and gave 7 assists last season. His estimated asking price is £21.3m.
Don`t miss out 👉: English Premier League Transfer Roundup: revealing top signings, latest rumours and more…
"It's a big moment, there is no point in anyone trying to pretend otherwise. One of Liverpool's greatest ever players is leaving and we must acknowledge how significant this is. But we must not dwell on what we now lose, instead celebrate what we were privileged to have. He leaves with our gratitude and our love."

says Jurgen Klopp.
Don`t miss out 👉: 5 Biggest fixtures for Liverpool in the 2022/23 Premier League
Head coach Julian Nagelsmann, probably the best young coach in the world at the moment, is delighted with the new vauable asset:
"Right from the first conversation he made a very selfless impression, which is extraordinary for a player with such a big name. He said, quite modestly, he can imagine himself in any position. It's rare to experience that in a first conversation, that a player puts themselves completely at the service of the club and the coach. That made our urge to get the signing over the line even greater."
"We're Bayern Munich, we always have the chance to bid for big stars. Sometimes we hit financial limits, especially with guys who are playing in England. That was different with Sadio because he has great desire for our project, our club and his teammates. I was delighted."
Herbert Hainer, FC Bayern president:
"Sadio Mané is a global star, who underlines the appeal of FC Bayern and will increase the attractiveness of the Bundesliga as a whole. Fans come to the stadiums to see such unique players. It's great that our board led by Oliver Kahn and Hasan Salihamidžić have managed to sign a player like Sadio Mané for FC Bayern."
"With his outstanding performances and his great successes at the highest international level over many years, there are very few players like him in the world,"

added Bayern's СEO Oliver Kahn. 
"We're sure that Sadio Mane will delight our fans in the coming years with his spectacular style of play. He's ambitious and eager to win more titles. This package is very strong. With players like him at FC Bayern, all the biggest goals are possible."
Sadio Mane has played for Austrian side Salzburg and English Southampton, from which he moved to Liverpool in 2016.
In his 269 games for Liverpool, Mane scored 120 goals and provided 48 assists. During his dream stay he claimed 6 trophies winning the Premier League, Champions League, FA Cup, Carabao Cup, UEFA Super Cup and FIFA Club World Cup.
This is the 3rd summer signing for the Germans. Ryan Gravenberch and Noussair Mazrouai both from Ajax joined last week.