RB Leipzig's defenders ruined the match, while Liverpool gained a comfortable advantage before the return fixture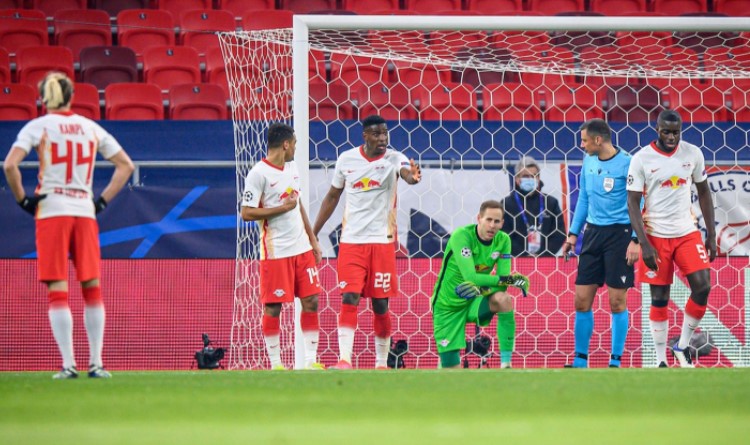 RB Leipzig's defenders Nordi Mukiele and Dayot Upamecano frustrated after a conceded goal
Liverpool picked up a 2-0 victory over Leipzig in a round of 16 clash at the Puskas Arena on Tuesday night, thanks to second-half goals from Mohamed Salah and Sadio Mane.
Nagelsmann's club looked good in the first half and we can say that they have been closer to a goal. But in the 53rd minute, team captain Marcel Zabitzer accidentally made an "elegant" pass to Salah, setting up a one-on-one challenge which he coolly executed to make it 0-1.
After that lads from Leipzig once again "gifted" the 100% opportunity to Liverpool attacking sharks. Again It was their own fault only, by making another mistake they conceded a goal. Johnson's long cross made Mukiele slumped to the ground, Upamecano, who initiated the mess, tried to reach Liverpool's attacker, but Mane was too pacey and left no chance for the Bulls' goalkeeper in a one-on-one situation. Two crucial mistakes wiped out any attacking successes of the German side.
The German head coach felt the final scoreline was not an accurate reflection of how well his side played against the Reds:
"When you win, you're always right, but we earned a lot of respect in the 90 minutes."
"We were definitely not worse and certainly not two goals worse. The big difference was they scored with their two chances, we had three big chances and weren't clinical enough. For the two big mistakes we committed – we were punished, and at such a high level that's normal."

the Leipzig boss told reporters post-match.
Nagelsmann has now lost all three games he has played against Klopp at the start of his managerial career. However, he managed to guide Leipzig to their first-ever Champions League semi-final last term, and they also picked up impressive group stage wins against Paris Saint-Germain and Manchester United in the first half of the current campaign.
Meanwhile, the Reds' newcomer became the player of the match:
Don`t miss out 💥: Liverpool has managed to find a replacement for injured centre-backs, who are they?
Jurgen Klopp on Ozan Kabak's performance:

"After such a long time with Schalke, he was new to that and I think his attitude was good. Very happy with his performance. And Hendo can play the position perfectly. It's not that Leipzig didn't have a chance, Ali also had to intervene in two or three things, but that's normal. Overall, I can say I'm very pleased with the whole performance."
The second game between Leipzig and Liverpool takes place on 10 March.
Since Jürgen Klopp took charge of his first UEFA Champions League match at Liverpool in September 2017, the Reds have registered more clean sheets in the competition than any other side (18).
Amongst all players within the top-five European leagues, only Robert Lewandowksi (30) has scored more goals in all competitions this season than Liverpool's Mohamed Salah (24).