Nerazzurri or Rossoneri: Which Milan club will bag the Scudetto in 2022?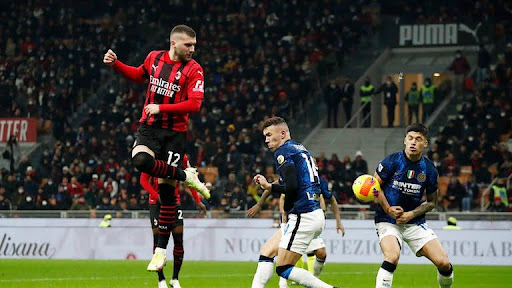 Inter and Milan players in action against each other
Both Inter and Milan may have been knocked out from Europe but the competition between them back home to lift the Scudetto is brimming with excitement. Only three matches remain in Serie A and with two points separating the Red and the Blue side of Milan, the one who tumbles first is most likely to stay down on the ground.
Simone Inzaghi has shuffled his side nicely as Inter reached the Round of 16 of the UEFA Champions League and will even take part in the Coppa Italia finals. Stefano Piolo, on the other hand, couldn't cross the group stage hurdle in Milan's return to Europe's premier knockout competition after eight years. But, it remains to be seen how Inzaghi chops and changes his team as within a span of ten days, Inter can win everything or return empty-handed.
Napoli started strongly this season by winning each of their first eight matches but only three victories in their next nine encounters pulled them down and since then it has been all about the two clubs from Northern Italy. It was Milan who took the lead first as they beat Salernitana 2-0 in Matchday 16 but surrendered their summit position soon as Udinese played a 1-1 draw with them.
It was all about Milan and Inter after Napoli's collapse
In the middle of an eleven-match unbeaten run, Inter capitalized on their rival's lapse of concentration to rout Cagliari 4-0 the next day and take the lead. The cat and mouse chase between the two clubs started henceforth and Inter enjoyed the look from the top for eight weeks.
But, the Nerazzuri's rough patch of form started from Matchday 22 as they were able to win just two games from the next nine matches, including a 1-2 loss to Milan. The hot-headed contest saw Milan's Theo Hernandez and Inter's Alessandro Bastone being sent off in the dying minutes as Oliver Giroud's brace got the better of Ivan Perisic's goal in the first half.
Inter did get their revenge in the Coppa Italia semi-finals as Lautaro Martinez's brace and Robin Gosens' late goal in the second leg took them to the finals. But, they were unable to capitalize on the momentum as Milan led the leaderboard.
Although they perched at the top, it would be wrong to say the pressure was not mounting on Milan. Inter had a game in hand and slowly but steadily picked up victories. Milan played goalless draws against Bologna and Torino consecutively, which ultimately narrowed the gap. Inter could have sneaked forward but a 2-1 loss to Bologna nullified their psychological advantage.
Inter lost their psychological advantage by losing to Bologna
They now find themselves two points behind and only three matches to catch up. The good news for them is that they have a comparatively easier set of fixtures. An away trip to Cagliari sandwiched between two home fixtures against Empoli and Sampdoria is not bad. But, with Cagliari fighting relegation, Inter can't take them lightly as the home side will come out with all guns blazing, seeking to take revenge for the humiliation in the reverse fixture.
Scoring goals will be the last concern for them as Lautaro Martinez and co. have been firing on all cylinders. The last time they drew a blank was way back in the first week of March in the first leg of the Coppa Italia semi-finals. Milan, on the other hand, heads into the final phase of the league with an astute defense, having conceded only one goal in their last eight matches.
They say the best time to face mid-table clubs is during the end of the season as they have very little to achieve. Verona, Atalanta, and Sassuolo neither have to worry about relegation scenarios nor dream about competing in Europe next season. Maybe facing them right now is the best possible option or maybe the nothing to lose attitude would spoil Milan's 11-year awaited party.
Nerazzurri or Rossoneri – which Milan club will bag the Scudetto in 2022?
Fixtures to come
Inter vs Empoli
Verona vs Milan
Milan vs Atalanta
Cagliari vs Inter
Inter vs Sampdoria
Sassuolo vs Milan