Karim Benzema told a teammate to stop passing to Vinicius Jr: 'He's playing against us'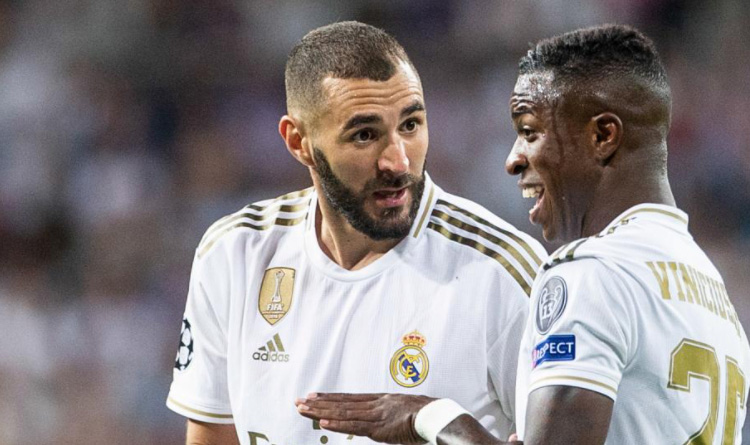 Twitter
Real Madrid's European nightmare proceeded last night as Zinedine Zidane's side salvaged a 2-2 draw in the Champions League group game against Borussia Monchengladbach. And to make things worse, tunnel camera picked up a conversation between Mardrid players that proves that their relationship are fairly strained.
In their Group A opener, Real lost 3-2 to Shakhtar Donetsk after going 3-0 down. The situation got better after a 3-1 win in El Clasico against Barcelona on the weekend. An away Champions League clash against Borussia Monchengladbach would have been an easy one for Madrid.
Nevertheless, Zidane's men confidence has gone away as Borussia striker Marcus Turam scored a brace to put the German side up to 2-0 after 58 minutes. At the very end of the game at Borussia Park, Real managed to save the day. Karim Benzema's made it 2-1 on 87th minute, and Casemiro's managed to find the way back for Mardid scoring a stoppage-time equalizer.
According to RMC Sport, Benzema complained about Vinicius Junior during the half-time. While filtering out from the dressing room, Frenchman reportedly asked defender Ferland Mendy to stop passing the ball to Brazilian wing-man:
'He does what he wants. Don't pass to him, brother. On my mother's life, he is playing against us'.
French news outlet's lip-syncing appears to be trustworthy as Mendy indeed passed to Vinicius only three times during the second half.
The report about Real's changing room split comes a few days after midfielder Isco was criticizing Zidane during El Clasico. Spain international spent the whole 90 minutes on the bench. The Spaniard reportedly told Luka Modric and Marcelo:
'If he has to bring me off, he substitutes me in minute 50 or 60 of the game, sometimes at half-time. If he has to put me on, he puts me on in the 80th minute.'
According to Diario Sport, Isco's complaints weren't appreciated by captaing Sergio Ramos. The defender reportedly insisted that the only reason behind Zidane's decision on Isco's lack of playing time is former Malaga's midfielder poor form.
Las Blancos now sit bottom of their Champions League Group A having only one point. Next up for Zidane's side is a game against Inter Milan on November 3rd. Real will host Huesca in La Liga action on Saturday.