Jamshedpur vs Goa: Preview and Prediction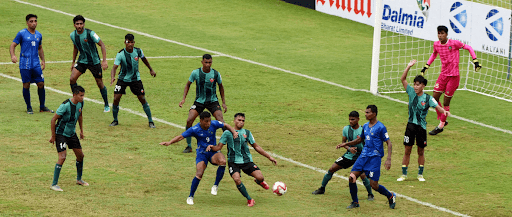 Goa in action in Durand Cup 2022 against Indian Air Force
ISL clubs Goa and Jamshedpur will lock horns with each other in a bid to stay afloat their ambitions of qualifying for the knockout stages of Durand Cup 2022 at the Salt Lake Stadium on Friday from 6 PM IST.
Both the teams started their Durand Cup 2022 on a sour note as they lost their opening encounters. While Goa failed to maintain their lead and lost 3-1 against Mohammedan, Jamshedpur was unable to make the most of the man advantage as they settled for a 2-1 draw against Bengaluru.
Only two clubs from each group qualify for the quarter-finals of Durand Cup 2022 and neither of the two sides occupies the top two spots of Group A. Anything less than a win would draw curtains to Jamshedpur's campaign while third-placed Goa requires to win the game by at least a margin of six goals to break into the top two momentarily.
Current Form
Jamshedpur was down two goals at the hour mark against Bengaluru before the referee brandished a red card to opposition player Hira Mondal. Rishi Rajput halved the deficit moments later but the Men of Steel couldn't level the scoreline and lost by a margin of 2-1.
Jamshedpur found themselves under a barrage of attacks against Mohammedan in their next Durand Cup 2022 match and lost by a 3-0 margin. If it weren't for the last-ditch defending of captain Sandip Mandi, the ISL Shield Winners would have lost by a bigger margin.
Goa started the game brightly against Mohammedan in the curtain raiser of the tournament and deservedly took a one-goal lead at half-time, courtesy of a rip-roaring strike from Muhammed Nemil. However, the change of sides led to a change of fortunes as Mohammedan struck thrice to win the match 3-1.
The Gaurs took an early lead against Indian Air Force in their second match in Durand Cup 2022 through Muhammad Nemil. Although both teams threatened to score a goal, they lacked the cutting edge in the final third to disturb the scoreline as Goa won the match 1-0.
Head to Head Record
Goa has squared off against Jamshedpur a total of 10 times in the past and gained the upper hand on six occasions. Three of the encounters went in favour of the Men of Steel while one match ended in a draw.
In the previous Durand Cup encounter between the two sides, Goa blanked Jamshedpur 5-0. Muhammad Nemil found himself on the scoresheet two times while Devendra Murgaonkar scored a brace inside the first half. Princeton Rebello was the other goalscorer.
Team News
There are no injury or suspension worries for both Goa and Jamshedpur. The Gaurs made three changes to their previous line-up and are expected to maintain their winning combination. Jamshedpur has played with the same starting eleven in both the games and should not tinker with their playing style and formations.
Predicted Starting XIs
Goa (4-4-2): Hrithik Tiwari; Salman Faris, Mallikjan Kalegar, Lesly Rebello, Deeshank Kunkalikar; Ayush Chhetri, Lalremruata HP, Mevan Dias, Muhammed Nemil; Delton Colaco, Phrangki Buam
Jamshedpur (5-4-1): Mohit Singh Dhami; Sandip Mandi, Piyush Thakuri, Kojam Beyong, Saphaba Telem, Aryan Sonowal; Keisan Singh, Phijam Vikash Singh, Vinil Poojary, Hijam Lenin Singh; Lalruatmawia
Prediction
Goa has had a better outing so far in Durand Cup 2022 and will be buoyed by the fact that they beat Jamshedpur last time in the competition. Nemil himself scored two goals in that match and has developed a knack for finding the net in Kolkata. We predict Goa to win the match 1-0.