Gokulam Kerala bows out of the 2022 AFC Cup with a shocking 1-2 defeat against Basundhara Kings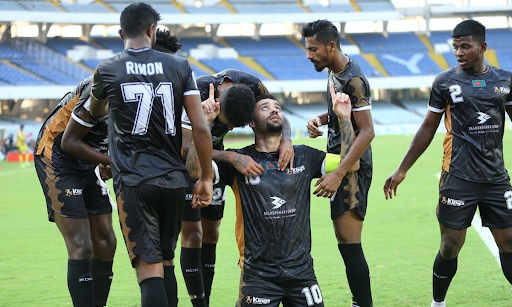 Basundhara Kings concluded their campaign with a morale-boosting 2-0 win over Gokulam Kerala
Bangladesh Premier League team Basundhara Kings stunned the I-League champions, Gokulam Kerala, as they registered a 2-1 win in their last 2022 AFC Cup tie on Tuesday. Robinho and Nuha Marong were on target for the Kings, whilst for Gokulam Kerala, Jourdaine Fletcher was the lone goal-scorer.
Basundhara Kings' head coach Oscar Bruzon made four changes to the team that suffered a 4-0 humiliation against ATK Mohun Bagan. Mahbubur Rahman Sufil, Biplu Ahmed and Nuha Marong came in for Tariq Kazi, Masuk Mia Jony and Matthew Chinedu respectively.
On the other hand, Vincenzo Alberto Annese made a couple of changes to his starting XI following a 1-0 defeat against Maziya S&RC. Abdul Hakku and Thahir Zaman were dropped from the team, whilst Jithin MS and Sreekuttan VS were included.
Jithin could have become Kerala's hero in the 4th minute of the game when a fantastic through ball found him through on goal, but he dragged his shot wide. However, the visitors soon took control of the proceedings and started creating chances.
Sohel Rana went for goal from distance but found his shot being blocked by Aminou Bouba, while Marong had a chance to score with his head, but he failed to do so. The Malabarians, however, did well to sustain the initial pressure.
Brazilian attacker Robinho almost added his name to the scoresheet in the 26th minute when he launched a precise shot, but Gokulam Kerala's shot-stopper Rakshit Dagar came up with an excellent save to deny him the glory.
However, whilst he failed to score on that particular occasion, Robinho eventually found the back of the net only six minutes later. He did well to get past his marker Rana and then pull the trigger, and this time around, Dagar had no chance of making a save.
Annese's team's only major opportunity in the first half came in the 39th minute when Sreekuttan delivered a nearly-perfect cross into the box that almost found Luka Majcen. However, Basundhara's goalkeeper Anisur Rahman Zico was alert to the danger.
The second half started pretty much like the first, with the Bangladeshi side running rings around the Malabarians. They needed a two-goal cushion and got so only nine minutes into the half when Robinho played a lofted ball for Marong and the Gambian striker made no mistake in beating Dagar.
Though it came a bit late, this goal did serve as a wake-up call for the I-League outfit. They reduced the deficit in the 75th minute when defender Mohammed Jassim launched a cross into the box and Jamaican striker Fletcher was alert to tuck it home.
It would not have mattered in the giant scheme of things as ATK Mohun Bagan finished on six points, but Fletcher almost pulled off a fantastic Gokulam comeback. In the 91st minute, midfielder Emil Benny won a freekick for his team and Fletcher took the responsibility on his shoulders. His shot was perfect in all sense, but the inspirational Zico came up with an equally brilliant fingerprint save to push it onto the crossbar.
With this win, Basundhara Kings finished second in Group D, with 6 points to their name. While they were tied on points with ATK Mohun Bagan, the Mariners finished first on the basis of the head-to-head result. Meanwhile, Gokulam Kerala surprisingly finished at the very bottom of the table after starting their campaign with an incredible win over Gokulam Kerala.