Germany vs Italy. Prediction and Preview. Probable Lineups, Team News, Stats and more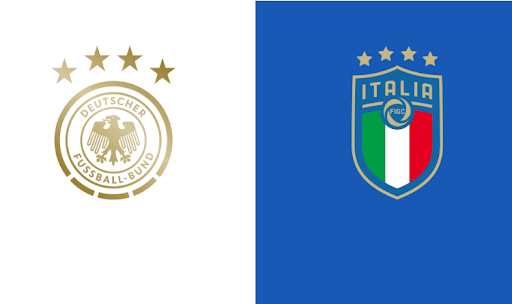 Germany will host Italy at the Borussia-Park in the UEFA Nations League. The match will take place on June 15, beginning at 00:15 IST.
Twelve fixtures of the fourth Nations League round are scheduled on the night of 14-15 June. No doubt the highlight fixture belongs to the German city – Mönchengladbach. Die Mannschaft and the Azzurri, the top two teams, will clash to prove who is superior right now. The match is of great tournament importance. If Italy win, the reigning European champions are more than likely to advance out of the group. The Germans can also cling to first place, but they need to beat Italy to do so.
And it's likely to be a closely fought game right up until the final whistle. The squads are packed with world-class stars and there will be plenty of action to keep us entertained.
Parimatchnews will tell you everything you need to know ahead of the upcoming match.
Germany News & Current Form:
Since the appointment of Hans-Dieter Fliek as head coach, the German national team have not lost an official match in all official competitions. During this period, the Bundesteam have beaten Liechtenstein (2-0 and 9-0), Armenia (6-0 and 4-1), Iceland (4-0), Romania (2-1) and Northern Macedonia (4-0) in the 2022 World Cup Qualifiers.
They also drew in the Nations League with England, Italy and Hungary (1-1 in all games). Counting March's friendly with the Netherlands, the Bundesliga side have been unable to win four games in a row. Those encounters represent the most interesting ones as the German mentor used experimental play schemes and tried to vary his line-up every time. Such a pattern is common for all big sides with a depth of squad ahead of Qatar, it is good opportunity to try the ideas, players and check the chemistry under the pressure of such tournament, unlike in frendlies. At times, results are sacrificed.
It's hard to say whether the strategies tried are working or not. Hansi Flick's charges were more often in possession and displayed brilliant attacking football time to time. However, Manuel Neuer had a lot of work to do, and there are still problems with goalscoring.
That said, there should be no doubts over Flick's efficiency or his tactical options. In the recent past, at the helm of Bayern Munich, the coach has achieved tremendous success: he won the Champions League, twice the Bundesliga, the UEFA Super Cup, the German Cup and the German Super Cup.
In the national team, the mentor's resources are, in our opinion, no less impressive. The German Machine's current squad combines the experience of Thomas Müller, Ilkay Gündogan and Manuel Neuer with the dynamism and technique of Jamal Musiala, Kai Havertz, David Raum and other youthful, high-quality players.
Italy News & Current Form:
The current squad situation of the Italian national team, in contrast, does not inspire much confidence. It has changed dramatically since the Finalissima final defeat to Argentina (0-3). The players who have played for the national team for many years have given way to young, promising, but non-linked players.
ome of them had no match practice at such a high level before. For example, Federico Gatti and Salvatore Esposito, who featured in the third leg of the Nations League tie against England (0-0), this season featured for Frosinone and S.P.A.L from second tier Serie B respectively (did you even hear about these clubs?). Needless to say, it was difficult for the 23-year-old defender and the 21-year-old midfielder to adapt on the international stage.
It was a miracle for England not to take a three-point lead. There were plenty of chances at Gianluigi Donnarumma's goal. And one of them was created by the goalkeeper himself. The goalkeeper played too cocky, giving away risky passes under pressure. One of them was intercepted by Tammy Abraham. Lucky not to concede.
On the other hand, the speedy young players of the revitalised Scuadra Azzurra also created danger at the English goal on more than one occasion. Besides, their efforts were enough to ensure a 2-1 win against Hungary in the second leg of the Nations League. They will certainly be able to put up a good fight in the upcoming encounter.
Nevertheless, it is hard to believe they'll win or at least draw. Three draws in a row for a hugely powerful German side with incredible quality is nonsense. Plus, Hans-Dieter Flick knows many of the players in the current German squad from his work at Bayern.
Germany season form guide (all competitions): W-W-D-D-D-D
Italy season form guide (all competitions): L-W-L-D-W-D
Don`t miss out 👉: Top 5 possible destinations for Romelu Lukaku
Germany vs Italy Head-To-Head Record:
The teams have crossed paths once in recent years. They met a week ago. Back then, the sides split the points (1-1). And it is possible that the forthcoming encounter will also be a close one.
Germany vs Italy Predicted XI:
Germany possible starting lineup(4-2-3-1): Manuel Neuer; Lukas Klostermann, Antonio Rudiger, Niklas Sule, David Raum; Joshua Kimmich, Leon Goretzka; Jamal Musiala, Thomas Muller, Leroy Sane; Timo Werner.
Italy possible starting lineup (4-3-3): Gianluigi Donnarumma; Giovanni Di Lorenzo, Alessandro Bastoni, Francesco Acerbi, Davide Calabria; Matteo Pessina, Bryan Cristante, Nicolo Barella; Lorenzo Pellegrini, Matteo Politano, Gianluca Scamacca.
Statistical preview of the match Germany vs Italy:
Germany have played a draw at home in 5 of their last 6 matches in the UEFA Nations League.
3 consecutive away matches for Italy have ended in a draw.
Germany have scored and conceded in 10 of their last 11 UEFA Nations League home games.
Italy have been unbeaten in 12 of their last 13 UEFA Nations League games on the road.
Germany are unbeaten in 9 of their last 10 UEFA Nations League home games.
Germany have scored less than 2.5 goals in four consecutive UEFA Nations League home matches.
Italy have scored less than 1.5 goals in five of their last six UEFA Nations League away games.
What has been said before the match:
Hansi Flick, Germany coach:
"We have a number of new players in the squad and are still working on developing the team. We're very positive about things. Italy are doing well, they have a very broad squad to choose from, and they always seem to have a different team playing. They have nothing to lose [since they are not going to the World Cup] and they can focus on looking ahead to EURO [qualifying]."
Roberto Mancini, Italy coach:
"The youngsters have shown character, I was impressed. It looked like they had been playing together for longer. We've done some good work, but there's a long way to go still. We will see fresh legs tomorrow, it's the last game of this series and it won't be easy."
Germany vs Italy Prediction:
The match will take place at the Borussia Park stadium in Mönchengladbach. The home crowd and walls will be in favour of success for the hosts.
Hansi Flik failed to find a winning formula in the first three rounds of the Nations League. Perhaps this time something will change. Germany have some excellent reserves, while Italy are in a rush to develop their young roster for the future as a part of generational proccess. The young Azzurri must be exhausted by the game with England. They are loaded with motivation for sure, but their instability and lack of international experience could play a cruel trick. They certainly have a lot to be commended for, but they are still making a lot of mistakes. Donnarumma is among them. The home side will surely take advantage of this, but will it be enough to win? Not a fact; even England, with their tremendous atacking quality, failed to produce any goals in the last game.
We also don't expect a lot of goals, especially considering the trends of the previous matches.
Don`t miss out 👉: Australia vs Peru: Preview and Prediction
Parimatch News staff prediction:
We say: Germany will not lose and the match total less than 3.5 – Yes.