Cristiano Ronaldo washes his hands and leaves the Red Devils' сamp while owners put the club up for sale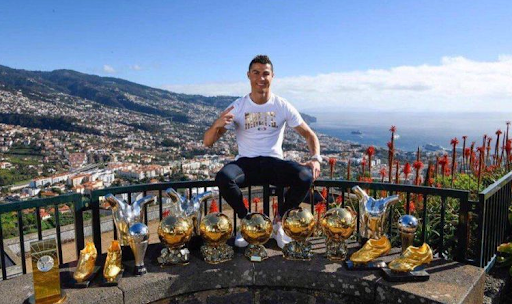 Cristiano Ronaldo and all his personal awards
The news of Cristiano Ronaldo's departure from Manchester United FC has rocked the world. The ground for this decision stemmed from a difficult relationship with the club's management, staff and team members, something the Portuguese himself spoke frankly about in a recent scandalous interview.
The crick talk with Piers Morgan caused quite a furore among the football public last week, while MU executives were in no hurry to react and take action – they decided to work through the situation with lawyers and think through all their moves.
Don`t miss out 👉: Cristiano Ronaldo versus Man United scandal: all you need to know
And just when everyone was beginning to think that the parties would be able to hush up the conflict — Man Utd has issued a declaration of contract termination on its main website.
The statement on the main website is below:
"Ronaldo is leaving the club by mutual consent. The club would like to thank Ronaldo for his tremendous contribution during his two periods at Old Trafford, during which he scored 145 goals in 346 games, and wishes him and his family all the best for the future."
A couple of hours after, Ronaldo broke the silence:
"After negotiations with Manchester United, we agreed to end the contract early. I love MU and I love the fans – that will never change. At the same time, I feel it's time for me to look for a new challenge. I wish the team every success for the second part of the season and beyond."
According to the statement, the two sides were able to reach an agreement quickly, allowing them to remain in a win-win situation. The player has reportedly agreed not to demand the remaining contractual payments owed to him by the Mancunians. A very big relief, keep in mind that the 37-year-old footballer was getting a sensational $593,018 a week!
Interestingly, now CR7 is taking part in the World Cup as a free agent. A unique case for a player of such calibre.
The Portuguese spent 7.5 years at MU in two terms: from 2003 to 2009 and a year and a half after his return last summer. The club has already mentioned the goals and matches – let us underline the trophies: 3 EPL, 2 League Cups, FA Cup, FA Super Cup, Club World Cup and UEFA Champions League. Cristiano Ronaldo has also received his first Ballon d'Or award under the colours of Mancunians (2008).
Taking a look at the bigger picture, for Manchester United, it is very common for a big star to leave through scandals. This was the case with David Beckham and his switch to Real Madrid, Roy Keane to Celtic or Ruud van Nistelrooy to the same Los Blancos. The latter, by the way, left the Red Devils' camp because of a conflict with Crish. Van Nistelrooy's inflated ego came up against the young Portuguese, and Ruud was forced to leave and concede the position of main attacker of the team. He also said a lot of things in interviews and signed himself a transfer "out".
Alastair Campbell wrote about this in his book:
"The final straw was when van Nistelrooy blurted out that Ronaldo had found in Ferguson's assistant Carlos Queiroz a 'new dad', considering that Ronaldo's father had died because of alcoholism. Carlos made a remark to Ruud about respecting his teammates, but he just brushed it off."
For gaffer Sir Alex Ferguson, parting with even a leader was not a big deal as he dogmated the famous United principle that is "No player is more important than the club".
The tense background around Cri Ro was constant since he returned to England, and it even seems as if going back to Manchester was literally his biggest mistake in life. It is worth recalling another unpleasant incident that happened recently.
At the end of the match in April, while walking down the tunnel, Ronaldo knocked a fan's mobile phone to the ground when it was thrust towards him.
The Portugal international apologised on social media after the incident and accepted a police caution, but he has now been handed the punishment by the FA following an investigation.
He wrote on Instagram after the incident:
"It's never easy to deal with emotions in difficult moments such as the one we are facing. Nevertheless, we always have to be respectful, patient and set an example for all the youngsters who love the beautiful game," he wrote on Instagram after the incident.
"I would like to apologize for my outburst and, if possible, I would like to invite this supporter to watch a game at Old Trafford as a sign of fair play and sportsmanship."
Ronaldo will have to pay a £50,000 fine, while he has also been suspended for two matches. So, basically, if Ron will join another EPL club – he has to miss two next matches.
What awaits Ronaldo next?
What lies in store for Ronaldo next – now we can only guess. His options and the future are really shaky at the moment. On the one hand – more than eight hundred goals in his career, five golden goals, UCL trophies, Euro gold, on the other – only three goals in 16 games in the season and a big ugly scandal behind him.
There's no telling if a long line of buyers will line up for such a toxic Ronaldo.
"The Saudi Arabian team wanted to buy out Ronaldo in the summer and, and as we found out – even at that moment the club were not against the transfer, it was good money, but Ronaldo himself did not want to move."  

says Mike Wedderburn
Rumours are trickling around that representatives of Newcastle United are already on their way to rescue the football star. Having received considerable funding last winter, the Magpies dare to want to boost the club's image by inviting such a media person. It's not a bad option for the striker either, given that the Black and Whites are now sitting higher than his last club – in third place in the English Premier League.
Meanwhile, Chelsea FC are another English club said to be considering a move for Ronaldo, with the former Sporting Lisbon CP youngster able to join a new club with an intention to start playing immediately from January. However, another "downed flier", Pierre-Emerick Aubameyang, is trying to gain a foothold in London. There may not be enough room for two players with huge egos at one club, and the Aristocrats themselves are in a rather unclear situation at the moment. Things are looking a little alarming there.
However, Ronaldo will not have to be made to suffer in any case. He became the highest-paid player at the end of last year and, despite his poor performance, his name alone is earning him money this year as well. So he has rightly stated that he is not worried about being dismissed.
What's more, the Manchester United club's owners have announced their intention to sell the club shortly after the news above.
In a statement, Manchester United board co-chairs Avram and Joel Glazers said:
"As we seek to continue the club's success story, Manchester United's board of directors has authorized a thorough evaluation of strategic alternatives. We will consider all options that are in the best interests of the club's fans."
Among other "strategic alternatives," the company may also consider a partial sale of the club or attracting investment for various projects, including renovating and upgrading stadiums and infrastructure. Perhaps Ronaldo's diatribes about his love for the club that gave him his ticket into life were indeed true, because maybe it is because of this shock a positive metamorphosis will take place at MU.
"Investors in Dubai are on high alert and could offer $10.6 billion for Manchester United." reports Arabian Business journal.
The share price of English sports club Manchester United has skyrocketed after the news of the proposed sale was made public. Thus, they rose by 17 percent.
As a result, the market capitalization of MU has increased by almost $400 million. Before that, the club valuation was standing at about $2.15 billion.
Who knows, maybe this statement is just a great move to boost the companies' stock prices.
Don`t miss out 👉: Golden Boys of FIFA World Cup 2022: Best young prospects to watch during the tournament