"We've been quite fragile with our batting throughout this tournament," says Zimbabwe's head coach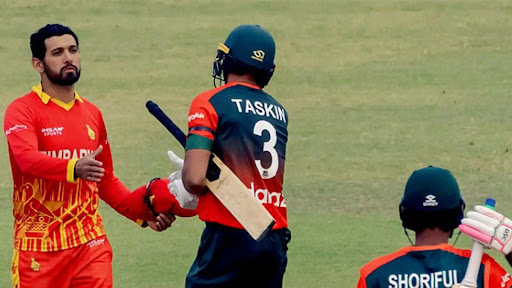 David Houghton says One of the things I've tried to encourage to the team, even if our batting is a bit fragile, is to still be positive and play with fearlessness
Zimbabwe coach David Houghton said that their delicate batting unit let them down through the course of the tournament while Houghton expressed that the batting unit needed to play with more of a positive intent to put the pressure back on Netherlands' ingenious pace attack.
Zimbabwe head coach David Houghton said that their delicate batting unit let them down through the course of the ongoing T20 World Cup while Zimbabwe lost to the Netherlands in Adelaide, which in turn snuffed out their hopes of progressing to the T20I World Cup semi-final.
"We've been quite fragile with our batting throughout this tournament,"

Houghton said in the presser.
"It has been our bowling, really, and fielding and catching, that has kept us in. Unfortunately, it [the batting] let us down in a game like this, which would have been huge for us if we had won because then we'll go on to the next game with just that outside possibility. I think we just got a little bit in front of ourselves thinking of what the possibilities might be,"

he added.
The Zimbabwe think-tank has attempted to be adaptable with the batting order. For instance, Regis Chakabva, who began Zimbabwe's World Cup campaign as one of the openers, was dropped down the order as the tournament progressed. Unfortunately, even that didn't help their objective much.
"I mean, we've been living on some runs from Sean Williams and [Sikandar] Raza for the last short while and one or two contributions from Wesley [Madhevere] and occasionally from Craig Ervine. So it has been difficult. We have to move people around to see if we can adjust the order a bit to make life a little bit easier so hopefully, we get bigger contributions from everyone. As I said, our batting has been brittle throughout this tournament. So we've done incredibly well to get where we've got to."
Houghton expressed that the batting unit expected to play with to a greater extent a positive goal to put the pressure back on Netherlands' ingenious pace attack.
"One of the things I've tried to encourage to the team, even if our batting is a bit fragile, is to still be positive and play with fearlessness. There was a bit of movement in that wicket, and we needed to do something about it. We needed to be batting a bit more positively, using our feet, and going down the wicket at the seamers, but we didn't. The seeds of doubt just kept us stuck to the crease, and unfortunately, it cost us.
"Since I've been in charge of the side, the last four-and-a-half months, we've had an incredible journey; we've played some really good cricket. This is probably the first time that I've seen a bit of doubt creep into our game. Hopefully, it'll be the last time for a while as well."
Zimbabwe finished on top of their group in Round 1 and proceeds to beat Pakistan in a nail-biter in Perth by a solitary run. Houghton said that Zimbabwe's fine run has again injected 'life into the game' in the country.
"It has meant a hell of a lot to people at home, and not just people at home, but Zimbabweans all around the world. The messages that we get regularly from everybody have been unbelievable. We've had quite a few night games in this tournament, after which get back to the hotel at half past 11 and I'm still answering messages at 4-5 in the morning. It has been phenomenal and we know because we have been getting the videos posted [of the celebrations] as well.
"We know how it has been taken at home. The thing is they've enjoyed the way we play. They've enjoyed the fact that we can come out and stand toe to toe with some of the best. And even though we have lost today, they will still have enjoyed watching us and they will still be proud of us. I said to the guys after the game that win or lose, our crowd is behind us, and you guys have brought the game back to life in Zimbabwe.
"If you'd told me in June when I started, that we would end up being sort of two games away about with the possibility of getting to a semi-final, I would have bitten your hand off for it. But it has been a positive journey for us all the way through. It's just pity for us today that we chose this game to have our worst game,"