Were there doubts? Yeah, of course, there were doubts in my mind – David Warner on Day 4 victory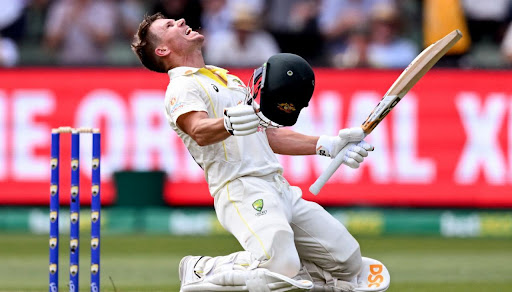 David Warner overcame cramping to score two hundred runs
David Warner acknowledged having some concerns about his ability to continue playing at the Test level before hitting a streak-breaking double century against South Africa. In spite of the fact that he has not lost interest in playing Test cricket, he remained committed to succeeding both in England and in India.
As he promised, Warner silenced any skepticism going into his 100th Test match at the MCG. As a result of his maiden century in almost three years and one of his best innings ever, he was named Player of the Match by the Johnny Mullagh Award committee.
Warner admitted that he had some reservations despite having publicly stated that he was simply out of runs and out of luck, not out of form, as he had not reached 50 in any of his previous ten Test innings coming into the game.
"Were there doubts? Yeah, of course, there were doubts in my mind,"

Warner said after Australia's innings victory on day four. 
"But for me, it was about just going out there and knowing that I've still got that hunger and determination because every time I rock up the training I've got it. And people keep telling me you will know when it's time and I haven't really felt that at all yet. I'm still enjoying it.
"I still know what energy I can bring to the team. I think once I start losing that spark and energy around training and taking the mickey out of people playing some jokes here and there and pranks, I think that's when I probably know it's time."
As a result of Warner's double-hundred, he has rekindled his desire to win Test series against India and England in 2023. Warner turned 36 in October and said earlier he may be in the penultimate year of his Test career.
As a result of his five trips combined, Warner has yet to win a series in either country. The following year, he plans to break both his averages in India and England, even if he only averages 24.25 and 26.04 respectively.
"I wish you would stop telling me my age. I don't feel 36,"

Warner said.
"I'm running faster than a lot of these youngsters in [the dressing room]. So when they catch up to me then I might think about pulling the pin.
"But I think the extra motivation for me is winning in India and completely winning a series in England. I've been told by the coach and the selectors that they'd like me to be there."
As Warner has already begun preparing for the four Test matches in India following three Test visits and 10 years of playing in the IPL, he has the most experience in the country among the Australian players.
As a result of the injury to Cameron Green and Mitchell Starc, Ashton Agar and Matt Renshaw have been drafted into the team and Australia is considering playing two spinners in the decisive Test against South Africa. Warner is uncertain of what to expect for his first match at the SCG due to the pitch's abnormally dry and spin-friendly conditions this summer.