We know what we're going to prepare for; they're going to be turning wickets – David Warner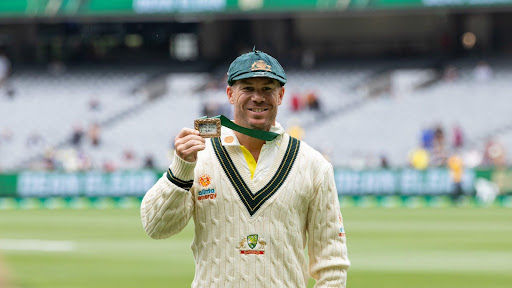 David Warner says the extra motivation for me is winning in India, and completely winning a series in England and I've been told by the coach and the selectors they would like me to be there
David Warner has expressed that the greatest challenge of winning the upcoming Test series in India, beginning in February, would be a "batters' battle" and put the onus on the Australian batting group to track down techniques to manage the conditions there.
The Australia opener-batter David Warner has expressed that the greatest challenge of winning the upcoming Test series in India, beginning in February, would be a "batters' battle" and put the onus on the Australian batting group to track down techniques to manage the conditions there.
Straight from the emotional double century in his 100th Test, the opener already looks to be setting his sights on the four-Test tour, saying that it is "extra motivation" for him to go in this format.
"We know what we're going to prepare for; they're going to be turning wickets. It's different with the venues, Nagpur and Delhi quite dry, then Dharamsala that time of the year, we've played there, and we probably should have won that Test, but we lost those ourselves.
"There's going to be times when it's going to be challenging over there, but it's about how our batters can build and bat big as we did in Pakistan. I think with the ball, we're going to do a fantastic job, we've got a world-class spinner in Nathan Lyon and we're going to have to potentially think about playing two spinners,"

said Warner following Australia's massive series win against South Africa in Melbourne.
"Obviously in Sri Lanka, we had good methods and we saw in that first Test in Galle, everyone was playing reverse sweeps and sweeps, everyone had a method and they stuck to it,"
Asked if this would be Australia's best chance to win that elusive Test series in India, Warner said,
"Shall I start the headlines now, before we go over there? I did remember somebody talking about a two-day Test the other week. It's going to be interesting."
Warner also admitted to being in as "happy a place" as he has been in quite a while with his cricket and in life following his amazing performance in his milestone Test.
Having suppressed a lot of doubt over how long he could go on as a Test cricketer, the 36-year-old said that he had the "hunger and motivation" to keep doing it.
"I wish you'd start talking about my age, I don't feel 36. As I said before, I'm running faster than a lot of these youngsters in here so when they catch up to me then I might think about pulling the pin. The extra motivation for me is winning in India, and completely winning a series in England. I've been told by the coach and the selectors they would like me to be there. Obviously, there was a lot of stuff before this series going on in my mind,"
"Were there doubts? Yeah, of course, there were doubts in my mind but for me, it was about just going out there and still knowing I've got that hunger and determination because every time I rock up at training, I've got it. And people keep telling me 'you'll know when it's time', and I haven't felt that at all yet. I'm still enjoying it; I still know what energy I can bring to the team. I think once I start losing that spark and energy around training and taking the mickey out of people and playing some jokes here and there, and pranks, I think that's when I'll probably know it's time,"

he added.
Warner didn't keep down when asked about how much of an impact the drama surrounding his leadership ban had had on his preparation for the Test summer.
"It takes its toll immensely. And I've got all that happening in the background, and I get a message the night before a Test, these are things you don't want in the back of your mind. And day two, waking up and a lawyer texted about something that has to be spoken about. These are things that you don't want on your mind when you're going to training or go to the game,"

he revealed.
"So, for me, it was just about trying to get in the right frame of mind, and I just couldn't because it was difficult. And then when you're out in the middle, you're trying to be as positive as you can. And I was hitting them as well as I thought I could, but I was just getting no luck. You make your luck in this game, the game owes you nothing and fortunately enough in this game, it paid off, which I'm really happy about,"

Warner further added.
He also insisted that it was all behind him now and that he had his eyes set on the road ahead, with no more distractions.
"Yep, hundred percent. That's all parked now, I don't have to worry about that, I'm not even thinking about it. The focus is now towards Sydney and getting me right for BBL."
Warner had spoken before the MCG Test about wanting to return to his former aggressive self. He stayed faithful to his promise too, showing a lot of intensity with his running between the wickets but also hoping to take the game to the South Africans both in terms of his mind-set and a slight change in his technique. And he felt that he'd be adhering to this approach going ahead until the end of his Test career.
"You go back to last year against England, I thought the Gabba was probably one of the best innings I've played for a long time – I left patiently, I couldn't drive anything on that wicket. The poor curator's had tough times the last two years, but for us, it's about adapting to what's in front of us. I was just thinking to myself 'so be it, if I'm gonna go down swinging I may as well go down playing a cover drive and nick off rather than defending and getting caught at third slip,"
"It's one of those things I've always had in the back of my mind, just go out there and play that way. I think I've allowed myself to go a bit defensive instead of looking to score because of the wickets. If you look at the way Travis Head has come out and played his natural game, he managed to do that last year against England in Hobart, and he's done it continuously through this summer as well.
"It's about just having that comfort of backing yourself and I always do that but I felt a sense of responsibility to adapt to the wicket and conditions that were in front of me. But now it's just going back to looking to score then my defense will take care of itself,"

he said.