Virat Kohli, India sign off from Asia Cup 2022 on a high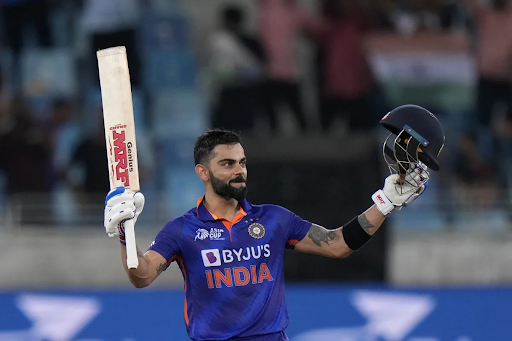 Virat Kohli raised his 71st international century in the most unexpected manner, but one that signalled that he is back to top form
1021 days — a number that will remain etched in the memory of the vast sea of Indian fans who spent anxious days waiting for their 'King', Virat Kohli — one who has been rightly called so — to score his 71st international century. 
Finally, the moment arrived and their joy — including that of the batting maestros — knew no bounds when he surprised himself with a superlative century against Afghanistan in the so-called dead rubber, India and Afghanistan's final match, in the ongoing Asia Cup 2022 competition.
Virat Kohli not only brought up his 71st century overall in International cricket on Thursday but also his maiden in the shortest format, and after he was done powering India to a total — 212/2 in 20 overs which was for obvious reasons beyond Afghanistan's reach — he said he was surprised himself that this is where his wait was to end.
During the innings break, Virat Kohli said he will dedicate this century to his Bollywood actress wife Anushka Sharma, who has been a pillar of strength for him.
"Last two and a half years have taught me a lot. I am going to turn 34 in a month. So those angry celebrations are a thing of the past. Actually I was shocked. This is the last format I thought. It was an accumulation of a lot of things. The team has been open and helpful. I know there was a lot of stuff going outside. And I kissed my ring. You see me standing here because one person has put things in perspective for me. That's Anushka. This hundred is for her and for our little daughter Vamika as well. 
"When you have someone next to you having conversations putting things in perspective, like Anushka has been… when I came back I was not desperate. Six weeks off I was refreshed. I realised how tired I was. Competitiveness doesn't allow it, but this break allowed me enjoy the game again," Virat Kohli added.
There was not much in the game played at the Dubai International Stadium otherwise. India, expected to take out some frustration of not making the final on Afghanistan, came out all guns blazing and thanks to Virat Kohli's century, they powered to a total which was beyond the reach of their opponents.
Virat Kohli recorded the top score for any Indian batsman in T20Is, hitting 122 not out from only 61 balls with 12 fours and 6 sixes. With Rohit Sharma missing the game, India's stand-in captain KL Rahul also made the most of the chance, scoring 62 from 41 balls with 2 sixes and 6 fours.
But to their disappointment, Afghanistan, who had put up such an incredible fight against Pakistan the night before in Sharjah, fell like a pack of cards to finish at 111/8 in their 20 overs. They did take the came right till the end and were not bowled out, but the Afghans were left scarred by a stunning spell from Bhuvneshwar Kumar who returned with 4-1-4-5.
Among the rubble that Afghanistan batting turned out to be on Thursday night, right-handed Ibrahim Zadran stood tall with a 59-ball 64 with 4 fours and 2 sixes.
While India and Afghanistan will now head back home and prepare for future assignments — the former will face South Africa and Australia at home — the other two teams left in the competition, Sri Lanka and Pakistan will play twice, once in the Super.4 round and again in the final on Sunday.