Usman Khawaja, Steve Smith to get Australia in a controlling position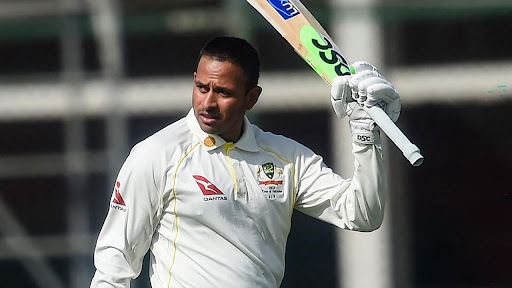 Smith and Khawaja have put the visitors in a comfortable position
At the start of the opening day of the second test, it was a disciplined batting effort from Australia batters Usman and Smith who combined for a third-wicket partnership of 159 while Australia ended at 251-3 on the first day.
Pat Cummins won the toss and elected to bat first in the second test while Australia take advantage of favorable batting conditions to control the opening day of the second test against Pakistan.
Australia dominated the opening day's play apart from an anarchic period before lunch when they lost the key wickets of David Warner and Marnus Labuschagne.
Warner fell on 6 to a gem of a delivery from returning pace all-rounder Faheem Ashraf, who squared up the expert to tempt an edge to wicketkeeper Mohammad Rizwan.
Later, Labuschagne, who made 90 in the Rawalpindi test and is the No.1 ranked batter in the world, was run-out for a duck from Sajid after attempting a risky single.
The wickets went against the run of play after Khawaja and Warner compiled a brisk of 82 runs on the opening stand, as they weathered challenging new ball bowling from Pakistan's pace-man before putting the foot down against Sajid.
With Smith and Khawaja undisturbed, an unlucky Pakistan sought a defensive move with spinners Sajid and Nauman bowling a leg stump line but Australia's batter remained patient with Smith constantly padding up during an agonizing period where no boundaries were stuck for 23 overs.
The only source of entertainment was Nauman's rather ambitious lbw shout against Smith for a delivery pitching way out outside leg stump that left his team-mates to giggle.
Luckily, the second new ball was taken and the match came alive before stumps as Pakistan reverted to trying to take wickets with Hassan squeeze Smith and Faheem took a stunning one-hand catch at second slip, who fell for the second straight time in the 70s much to his disbelief.
While Khawaja became the first Australian to score a test century in Pakistan since Mark Waugh's 117 during the third test in 1998.
Having been dismissed on 97 in the opening game, the left-hander spent a considerable time in the 90s on either side of the tea before notching his milestone with a single to square leg-off Sajid.
He jumped in the air and pumped his fist in a more muted celebration than after his comeback ton during the SCG Ashes test. He scored his 11th test Century to lead Australia to 251 for 3 at stumps.