Unforgettable loss for Pakistan against England in the test series: Player Ratings for the home side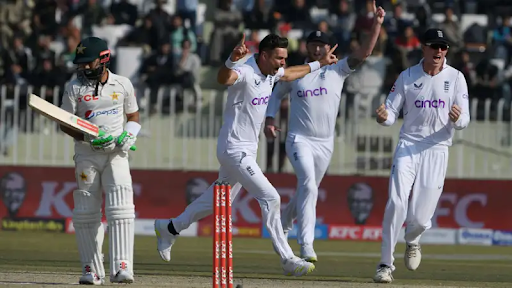 Pakistan's 0-3 defeat against England surprised many cricket fans all over the world
It was a disheartening performance from the Pakistani players at home as they got whitewashed 0-3 against England. Cricket inventors, who are not big fans of playing in the sub-continent, created history after defeating a big side like Pakistan at their home.
This was not the first time that England have played like this, they also beat India at home 2-1 in 2012. Today, let us take a look at the performances of Pakistani players in this Test series:
Openers
Abdullah Shafique (6/10): Abdullah Shafique had an average series with the bat with 213 runs in three games. He scored one century in Rawalpindi but couldn't continue his good run in the other two Test matches. Though he got a couple of good starts, the right-hander couldn't convert them into big ones.
Imam-Ul-Haq (6/10): Star Pakistani player Imam-Ul-Haq had a good series as he went on to score a superb century at Rawalpindi Cricket Stadium followed by a half-century in Multan. He was not a part of the third Test otherwise he could have touched the 300-run mark for sure.
Top Order
Azhar Ali (3/10): Experienced Azhar Ali had a terrible outing against England in the two matches he played. With no half-century or century, Azhar could only manage to score 112 in this important series. His highest score was 45 which he made in the third Test in Karachi.
Babar Azam (7/10): Popularly known by many as one of the best players in the world, Babar Azam had a good series with the bat. The Pakistani skipper scored 348 runs in the series with the help of a scintillating ton and three half-centuries. Despite this kind of performance, his team lost badly with one of the reasons being his captaincy.
Saud Shakeel (8/10): Saud Shakeel made his Test debut in this series, but he played like an experienced player on a couple of occasions. With 346 runs in the series, it was a dream debut series for Shakeel against a bowling line-up like England.
He scored four fifties and a 94 as well in the series which he would always remember. Sadly, he couldn't help his side win even a single game.
Middle-Order
Mohammad Rizwan (3.5/10): Below average series for the Pakistani superstar player as he could only score 141 runs in 6 innings. With an average of 24, Rizwan did not look comfortable throughout the series. The star player would look to make a strong comeback in the upcoming series.
Agha Salman (5.5/10): Agha Salman is another young player of Pakistan who showed a couple of good innings with his willow including the one in Rawalpindi where he scored a half-century.
Overall, he scored two fifties in the series with the next one coming in the final Test match at Karachi. Salman showed promise with the bat as he scored 184 runs in three games. A player like him surely has the ability to be the next big thing in world cricket.
Lower Middle Order
Faheem Ashraf (2/10): Faheem Ashraf played two matches in the series but he neither batted well nor bowled up to the expectations. With no wickets from him, it is going to be interesting to see if he could make it to the team in the next series. Though he showed some brilliant performances in the past, this series was a flop for the bowling all-rounder.
Mohammad Ali (4.5/10): Debutant Mohammad Ali picked up four wickets in the first two games of his Test career. Dismissing Ollie Pope twice in the first Test match at Rawalpindi became the highlight of the series. Though this performance is an average one for any critic, the 30-year-old will learn as he plays more international games for his country.
Mohammad Nawaz (4/10): Mostly known as the bowler who bowled the final over in the Indo-Pak clash at the T20 World Cup 2022, Nawaz played in just one game in the series. Though he couldn't give his side a crucial performance with the ball, he batted well in the second innings of the 2nd Test with a fine knock of 45.
Bowlers
Naseem Shah (6/10): Naseem Shah played just one game in the series and picked up 5 wickets for his side with each one of them coming at a crucial stage. His fast bowling has impressed many in the past year and Naseem would only take positives from all the performances he is giving at this stage.
Zahid Mahmood (8/10): Third highest wicket-taker of the series, Zahid Mahmood picked up 12 wickets in the series and became every batsman's nightmare. The leg-break bowler troubled the English top order on a couple of occasions and trapped them in front. Zahid would surely be going to be a massive boost for his side in the series to come.
Abrar Ahmed (9/10): If there's anyone who will be the most disappointed in the outcome of the series, then it has to be Abrar Ahmed because of the performances he has given in this series.
He bamboozled the England line-up with a remarkable spell throughout by picking up 17 wickets in the series. Abrar, who just played two matches in the series, took two 4-fers and one 5-fer.
The 7-wicket spell in the Multan Test will go down as one of the finest figures of that ground. He dismantled every English batsman at that time but still couldn't help his side earn a victory in that game.
Haris Rauf (1.5/10): With only one wicket in the single game he played, Haris Rauf did not impress his fans with his performance, however, he later got injured and ruled out of the Test series. A bowler like Haris is a wicket-taker and he will surely be back with the team in the upcoming series.
Nauman Ali (7/10): With one 4-fer in the only match he played, Nauman Ali impressed the Pakistan camp with his performance. He made his debut in 2021 against South Africa and has so far played 12 matches for his country. It's always good to see an experienced bowler of 36 years taking wickets against a top batting line-up.
Mohammad Wasim Jr (3/10): Another debutant in the series, Mohammad Wasim Jr had a below-average game for his side. He picked up just a single wicket in the whole Test match which won't be a memorable moment to look at in future. The 21-year-old will surely get more opportunities in future to prove his worth in Test cricket.