Trying to be as adaptable as possible – Sam Curran on seven-match T20I series against Pakistan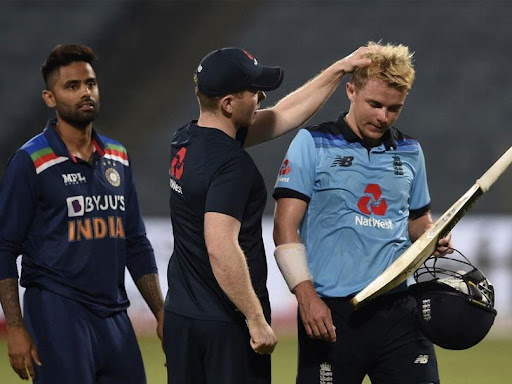 Sam Curran reveals that his role with the bat might get promotion up to the top order
England all-rounder Sam Curran says that he is ready to adapt to different roles and play free-hand cricket ahead of the T20I series in Pakistan and also in the upcoming T20 World Cup in Australia.
For the record, Sam Curran has batted at the top-order for Surrey in the Blast and also for Oval Invincibles in the Hundred. However, with England already having too many top-order playing options, Curran can be given the role of a finisher.
"I'm trying to be as adaptable as possible. I'm sure there's going to be a lot of rotation: guys coming back from injury, newer guys coming in. My role might vary as guys come back or guys come in. The role I'm given is just to contribute with the ball when I bowl and when I'm batting,"

Curran said in the presser.
"That may be lower down the order here but I guess it's about adapting to conditions. I don't think about it too much at Surrey or in the Hundred because I had pretty set roles but with England, naturally, I do because we've got so many all-rounders who can be adaptable. I might get sent up as a floater to take on different types of bowlers. Whenever I do play for England, I play with an open mind. You don't just want to be a cricketer whose set for one role which I think is one of my strengths: to be as adaptable [as possible] for the captain and guys in the team,"

he added.
Curran was not part of the T20 World Cup last year that was held in UAE as he was ruled out following a stress fracture of the back that he suffered in the second half of the IPL.
After returning to international cricket, Curran has concentrated on playing the better version of himself as a player. He ended up playing five County Championship seasons for Surrey but bowled only 41 overs as England staff wanted to ease him back into international cricket.
"I missed the last one. I need to get through this series and then hopefully when I'm in Australia, I can be excited about it. The biggest thing this summer was getting my body through it… the priority now is the World Cup. I didn't bowl much for Surrey at all. The most I bowled in a game was 20 overs [24] and it felt like the sensible option. The Test team were flying at the time so my focus was purely on the World Cup and trying to have a good Hundred, to keep performing and to get my body right."
Curran also expressed his excitement about playing in Pakistan. The last time England toured Pakistan was back in 2005-06.
"Most of the Pakistan guys I know, I played against a few of them at the Under-19 World Cup, like Shadab [Khan]. He's a fantastic player. This is a great chance for myself and most of our players – even guys that aren't in the World Cup squad – to stake a claim, keep knocking down the door; but also just to be here, be involved with a pretty historic trip to Pakistan and take it all in."