Trent Boult set to miss the second Test against South Africa at Hagley Oval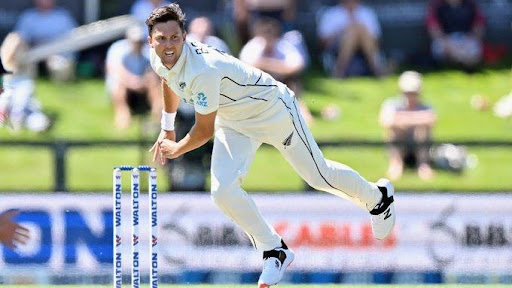 New Zealand left-arm pacer Trent Boult set to miss the second Test against South Africa at the Hagley Oval following an injury
The left-arm pacer Trent Boult is all set to miss the second Test against South Africa at the Hagley Oval unwilling to risk an injury who does not have enough time for the training to bear the workload of a Test match.
Trent Boult has missed the thrilling victory in the 1st Test against South Africa on the concerns of family duties as his wife gave birth to their third child.
Meanwhile, the 32-year-old will train along with the squad members in the build-up to this week's Test; he'll next feature in the New Zealand jersey only in June during the team's tour of England with New Zealand Cricket ready to allow the players to participate in IPL can miss the Netherland series.
"Trent Boult isn't in a position to be available for this Test match with his loads and where he's at, at the moment,"

Stead said on Monday (February 21). 
"Since [he was on paternity leave] as well he's missed out on a lot of opportunities to play cricket and bowl. We just felt the risk of him playing was far too great at the moment to do that to him."
Boult's absence in the first Test paved the ways for Matt Henry to be the part of playing X1, an opportunity he grabbed in the first innings by taking seven wickets and setting the pace for his side to clinch a dominating victory by an innings and 276 runs, which is their fifth against South Africa.
"He's always been a good bowler and sometimes you need that opportunity to strike and make the most of it and he certainly made the most of the opportunity that was in front of him,"

Stead said about Henry.
"He hits the top of off stump and was regularly in that area and he asked hard, hard questions of the batsmen and did it for long periods of time."
With the conditions looking similar to Christchurch, New Zealand does not feel the need to bring in the specialist spinner, and instead, they opted to retain the same 15-year-old squad for South Africa.
The all-rounder Rachin Ravindra is a good option considering his batting and bowling skills as New Zealand looking for a historic win against Proteas but Ajaz Patel won't be considered as he hasn't returned to Plunkett Shield just yet after picking up an injury.
"We considered a [frontline] spin option but didn't feel as though we needed it on this pitch, through history and the way it was looking after the last Test match,"

Stead said.
"South Africa isn't a bad side. Yes, we got on the right side of it this time, but we expect them to come back and come back strongly. We'll certainly be ready for that as well."