Top 5 players who revived their careers with their IPL 2022 performances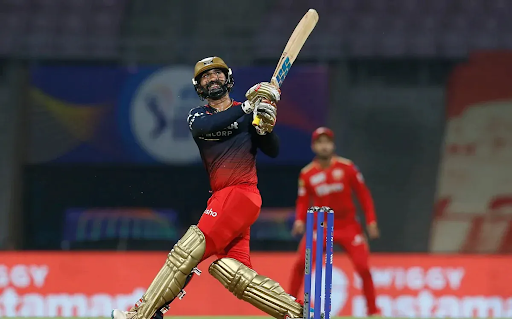 Dinesh Karthik had an extraordinary IPL 2022 campaign for Royal Challengers Bangalore
Among the innumerable franchise-based T20 leagues across the globe, the Indian Premier League grabs the most number of eyeballs. The competition is certainly a global spectacular, the stakes are certainly very high, and good performances are certain to be rewarded.
There are broadly two categories of players who use the platform provided by IPL to their advantage. The first group comprises uncut gems who become superstars overnight, but besides them, IPL also provides a stage to announce a grand comeback – to those already established players who were on a dip. We have seen many such stories in IPL, where players whose chapters in the sport were considered finished, rose to the occasion to prove why they still have what it takes to be a star.
Let us check out the top five players who revived their careers with their IPL 2022 performances:
#1 Dinesh Karthik
Dinesh Karthik has not donned the Indian jersey since the defeat against New Zealand in the 2019 ICC Cricket World Cup, and given his age, hardly anyone would have expected him to make a comeback to the team. But such were his performances in IPL 2022 that the national selectors were forced to pick him for the upcoming five-match T20I series against South Africa.
Playing for Royal Challengers Bangalore, the wicketkeeper-batter scored 330 runs at an average of 55, and an even more impressive strike rate of 183.33. He struck one half-century this season, but more importantly, he played quite a few crucial cameos, especially whilst chasing.
#2 Kuldeep Yadav
Though Kuldeep Yadav is not in his late thirties like Karthik, his chapter in international cricket seemed to be closed as well, given his history with injuries and the fact that his previous team, Kolkata Knight Riders hardly even played him.
However, the move to Delhi Capitals did him a world of good. He picked up 21 wickets from 14 matches – making him one of the only five bowlers who surpassed the 20-wicket mark this season. He also had an impressive average of 19.95 and a strike rate of 14.1.
#3 T Natarajan
T Natarajan might not have been selected for the upcoming five-match T20I series against South Africa, but given how he performed in IPL 2022, it can be said with certainty that he is there or thereabouts in terms of the names in the selectors' notebooks.
The Sunrisers Hyderabad picked up 18 wickets in 11 matches, maintaining an average of 22.55 and a strike rate of 14.3. The only aspect which worked against him is his economy rate of over 9 runs per over, but if he can keep it under control, the 'yorker master' can make a comeback in the Indian team soon.
#4 Wriddhiman Saha
Wriddhiman Saha was consistently making headlines prior to this competition – not because of something he had done on the 22 yards, but because of a dispute with a journalist. Moreover, he was also axed from the Indian Test team.
However, the wicketkeeper-batter from Bengal proved why it will be a mistake to tag him as 'finished'. Playing for the champions Gujarat Titans, Saha scored 317 runs at a fairly decent average of 31.70 and a strike rate of 122.39.
#5 Khaleel Ahmed
Khaleel Ahmed is the second player from the Delhi Capitals on our list, but unlike Kuldeep, the team from the capital had to spend a significant portion of their purse for this left-arm pacer. It was a leap of faith from the Capitals' management, given Khaleel was not particularly spitting fire before IPL 2022, but the gamble did pay dividends.
With 16 wickets, he was behind only Kuldeep on the list of leading wicket takers for Delhi, but it also has to be noted that he played four matches less than the wrist-spinner. Besides that, Khaleel maintained a healthy average of 19.68 and a strike rate of 8.04 runs per over.