Tamim Iqbal gives the foundation template for the ODI structure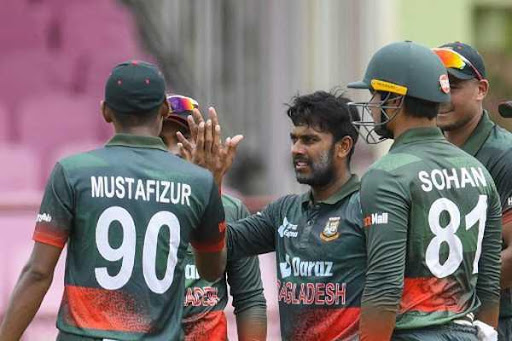 "There was a lot of debate whether we play one extra batsman or one extra bowler. If we play one extra batsman, it would have been a safe call but you have to take chances in international cricket."
After Bangladesh took a 1-0 lead in the three-match ODI series against West Indies, the skipper Tamim Iqbal says that he will continue to prefer the option of going with an extra bowler instead of batsmen.
With Shakib al Hasan not being available for the ODI series due to personal reasons, the decision lay whether to play an extra batter or not.
Eventually, Tamim Iqbal was able to convince the think tank to go in with the five bowlers – a combination that was not preferred by Bangladesh in a long time.
"There was a lot of debate about whether we play one extra batsman or one extra bowler. If we play one extra batsman, it would have been a safe call but you have to take chances in international cricket. We have to go with either one batsman or one bowler. For me, in the ODI format, you have to have five proper bowlers and I hope all the batsmen take responsibility and finish the game,"

Tamim told reporters after the opening game.
"In international cricket, if you take the easy option, there are times when it will not be successful and you have to take chances. Today, it could have been a different thing altogether (if we had lost) and you could have asked me why we played with one less batsman. But all went well,"

he added.
He also observed that in a process of Bangladesh's new context of picking an extra bowler, Najmul Shanto should have taken the responsibility to finish the game.
When the number 3 batter got dismissed on 37, Bangladesh still required 50 more runs for victory.
"When there are six batsmen, then whoever gets set, he has to carry on. Shanto had a brilliant opportunity today to finish the game and I think he should be very disappointed because these kinds of opportunities won't come… when Shakib and Mushfiq and Yasir will be back, they will probably take the place, so whenever this kind of opportunity comes, and you have to grab it with both hands."
Tamim also backed the decision of playing Shanto instead of the in-form Anamul Haque to build a strong side in the format. Anamul was picked in the side for scoring 1000 runs in the Dhaka Premier League. He also played the final Test and the T20Is against West Indies.
"I think we did the right decision. Though Anamul came to the team recently after having a fantastic domestic season, if I had opted for Bijoy (Anamul) in place of Shanto (Nazmul), then the selection of having Shanto in the last three series would be wrong, as then why am I carrying Shanto with the team for the last three series? I am carrying someone (in the team) and suddenly someone comes and I play him, this is not the way I think personally. I think we made the right decision."
Tamim added that he was pleased regarding the fact that Mahmudullah found some form with an unbeaten 41. The latter bats down the order and at his position, even a 25-30 could prove valuable for the team.
"As far as Riyad (Mahmudullah) bhai's batting is concerned, where he bats… if you take away today's innings, then lots of those 25 or 30 runs that he scores become very important. Whenever there are one or two failures and we go to statistics and see it is 25, 28, or 30 runs, there are times when those 25 or 28 runs are very valuable.
"If you consider the South Africa series, he did not have the chance to play big innings. I think considering these things, we should look at him in a different way, and sometimes he does a job that never gets appreciated. If we are a bit more educated in this aspect, then some players will have less pressure,"

he added.