Steve Smith licensed to go all-out with the bat in T20 cricket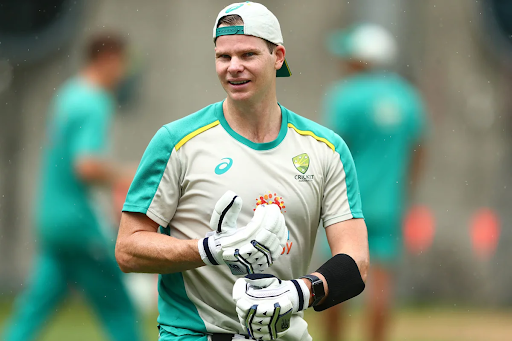 Steve Smith would usually play the role of a glue in the Australian middle-order
Former Australia captain and the country's best batsman Steve Smith has been unshackled ahead of the start of the T20I series in Sri Lanka — the right-handed batsman has been allowed to do away with his Mr Fix-It tag and be as aggressive as possible, with the reigning world champions looking to extend their dominance in the format.
The batting maestro has so far been a middle-order glue for Australia, holding their innings together and not necessarily looking to play as freely as some of the other batsmen in the team can.
But going forward, with the three-match T20I series against Sri Lanka starting on Tuesday, Steve Smith has been allowed to be himself and attack right from the first ball — if he wishes to.
Steve Smith told reporters in Colombo,
"I'm pretty excited that tag's been taken off, to be honest with you. Diva (stand-in coach Michael di Venuto) actually told me the other day … he said 'we're getting rid of that tag, that's gone. Just go out and play freely. If you want to smack your first or second ball for six, go for it'.
"And I'm like, 'yeah, that's cool'. So now it's just about going out and playing freely and trusting my instincts, which I think I've done well over any format for a long time, instead of being a bit more reserved and trying not to get out, which I don't think the right way to play T20 cricket. They've got rid of that 'Mr. Fix-it' tag,"

Steve Smith said. 
The development should provide a shot in the arm to Steve Smith's career in the shortest format, as he has been facing intense competition to earn a place in the Australian T20I team in which the likes of Mitchell Marsh, Marcus Stoinis, Matthew Wade and even Jos Inglis have made their mark.
Steve Smith will also get an opportunity to showcase his aggressive side with the bat in the shortest format, and hope to lure the buyers in the Indian Premier League (IPL) who had snubbed him completely in the auction for this year's edition.
When I'm playing the role that I was picked to play previously, you're not as aggressive or free flowing as you could be,"

Smith explained.
"Then you see guys like 'Maxi' and 'Stoin' behind you and you suddenly feel pressure to turn the switch on straightaway. That's not the way I'd generally play the game… When I'm playing well, I'm just hitting the gaps really nicely, I'm not trying to over-hit the ball. I'm just playing what's in front of me, not thinking too much about getting out or letting the team down,"

the former Australian captain said.