So near, yet once again, Pakistan remains so far away from the Asia Cup silverware: Player Ratings for Pakistan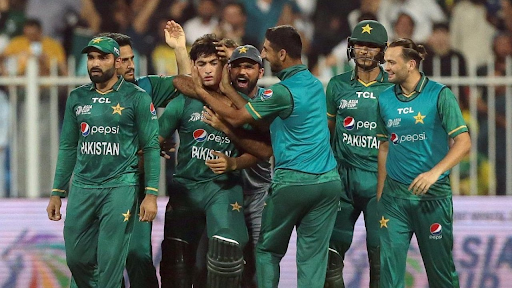 Pakistan finished second, losing out to Sri Lanka in the final
Pakistan can analyze their Asia Cup 2022 campaign from two perspectives. They could either be satisfied with their progress, as the semi-finals of ICC Men's T20 World Cup 2021 made it to the final ahead of India, or they could be disappointed like last year, they came agonizingly close to lifting the silverware, but it just was not meant to be for them.
Let us check out the report card of the Pakistani players:
Top Order
Mohammad Rizwan (9/10): Though there will be numerous questions on the knock he played in the final, and for righteous reasons, it will be unfair to deny Mohammad Rizwan was head and shoulders above the other Pakistani batters in this competition.
He topped the run-scoring charts for his team, scoring 281 runs at an average of 56.20 and a strike rate of 117.57. He played two knocks of 70+ runs – against India and Hong Kong, and also scored 55 runs against Sri Lanka.
Babar Azam (2/10): Coming into the competition as the world number 1 T20I batter in men's cricket, Babar Azam was expected to not only lead his team on the field but also be the batting kingpin. However, the reality was completely the opposite.
In six matches, the captain scored only 68 runs at a poor average of 11.33 and a strike rate of only 107.93. Barring the first of the two matches against Sri Lanka, he could not even cross the 15-run mark in the other five matches.
Fakhar Azam (3/10): Like his skipper, Fakhar Zaman also had a pretty poor outing and will look to forget the campaign as soon as he can. In six matches, the left-handed batter scored 96 runs at an average of 16 and a subpar strike rate of 103.22.
The only match where he looked in good touch was against the comparatively much weaker Hong Kong side, where he scored a half-century. Barring that, Zaman could not breach the 20-run mark in the other matches.
Middle Order
Iftikhar Ahmed (7/10): Besides Rizwan, who was very consistent, Iftikhar Ahmed is the only other Pakistani batter whose overall score reached triple digits. In six matches, the veteran scored 105 runs at an average of 26.25 and a strike rate of 100.96.
Though there were no significant knocks, he chipped in with timely contributions, scoring 25+ runs in three matches – against India, Afghanistan and Sri Lanka. Besides that, he also picked up a wicket at a bowling average of 24 and an economy rate of 6 runs per over.
Khushdil Shah (3/10): Not many were happy with the selection of Khushdil Shah in Pakistan's playing XI, and the batter did not do himself any favours in terms of silencing his critics, as it was his bat that remained mostly silent throughout the competition.
He scored 58 runs only in six matches, at an average of 14.50 and a strike rate of 120.83. The match against Hong Kong, where he scored unbeaten 35 runs, is the only instance where Shah looked in good touch.
Asif Ali (6/10): The statistics will show Asif Ali scored only 41 runs in six matches at a horrendous average of 8.20. However, a closer inspection will tell us that he played a few match-winning cameos, and his strike rate of 164.00 only highlights his importance.
Two of his best innings were against India and Afghanistan. On both occasions, he came to bat when Pakistan needed someone to put their foot on the accelerator, and he obliged by 8-ball 16 in both matches.
All-rounders
Mohammad Nawaz (9/10): Mohammad Nawaz was among the main architects behind Pakistan's advancement to the final, despite not having many consistent performers in their team. He was instrumental with both the bat and the ball and was also a safe pair of hands on the field.
Nawaz scored 79 runs in five innings, maintaining an average of 15.80, but more importantly, a strike rate of 143.63. As for his bowling performances, the 28-year-old scalped 8 wickets at an incredible economy rate of only 5.89 runs per over.
Shadab Khan (8/10): Pakistan relied heavily on their all-rounders for their success, and barring Nawaz, Shadab Khan was also influential in every department of the game except fielding. He was the joint-highest wicket-taker for the team, picking up 8 wickets.
Though not as impressive as Nawaz's figure, Shadab still maintained a pretty commendable economy rate of 6.05 runs per over. As for his batting show, he scored 54 runs at an average of 18.00 and a strike rate of 131.70.
Bowlers
Naseem Shah (8/10): Though the likes of Rizwan and Nawaz were the consistent performers, Pakistan's standout star from Asia Cup 2022 will undoubtedly have to be Naseem Shah. The youngster picked up 7 wickets in his five matches.
He maintained an average of 19.71, while his economy rate of 7.66 runs per over is also pretty satisfactory for a pacer who bowls both at the powerplay and at the death. He also scored 18 runs, hitting two famous sixes in the last over against Afghanistan.
Shahnawaz Dahani (5/10): Shahnawaz Dahani could play only two matches in this competition owing to an injury. However, even in the two matches that he played, the 24-year-old speedster from Larkana did not look particularly impressive.
He gave away 29 runs without picking up any wickets against India, though he opened his wickets tally against Hong Kong. Overall, he maintained a bowling average of 36, though his economy rate of 6 runs per over will certainly boost his chances of making it to the T20 World Cup 2022 squad. Besides that, he also scored 16 runs.
Haris Rauf (8/10): Haris Rauf, who was Pakistan's leading pacer coming into this competition following the injury of Shaheen Afridi, had another impressive campaign with the ball. Alongside Nawaz and Shadab, he was Pakistan's joint-highest wicket-taker with 8 scalps to his name.
Rauf maintained an average of 19.12 and his economy rate was under 8 runs per over. If that is not impressive in itself, the 28-year-old also scored 27 runs with the bat at a strike rate of 142.10.
Mohammad Hasnain (4/10): Mohammad Hasnain has been on a roller-coaster ride for a significant while now. After making a comeback to cricket following a tweak in bowling action, he was initially not expected to be a part of the team for this tournament but came in as an injury replacement.
However, his performances have not justified his inclusion in the team. Hasnain picked up only 4 wickets in as many matches, while his economy rate of 8.93 is the highest among the nine bowlers Azam used in Asia Cup 2022.
Usman Qadir (4/10): Given that Shadab and Nawaz are the two frontline spinners in the team, Usman Qadir was always likely to spend his time in the United Arab Emirates sitting on the bench. However, he got a chance in the first clash against Sri Lanka, which was a dead rubber contest.
The 29-year-old from Lahore did not do himself a favour in terms of giving the selectors a headache, as his performance was not up to the mark. Though he picked up a wicket, Qadir conceded 34 runs in that match.
Hasan Ali (3/10): Hasan Ali's case is pretty similar to that of Qadir. He was not expected to be a frontline pacer in a team that has the likes of Rauf and Shah, though he was given a chance in the first match against Sri Lanka.
Despite being given an unexpected opportunity, the pacer could not make it count as he conceded 25 runs in his three overs without picking up any wicket. In fact, Ali and Qadir were the only two Pakistani bowlers who conceded over 8 runs per over in that match.