Shukri Conrad and Rob Walter will be South Africa's new Head Coaches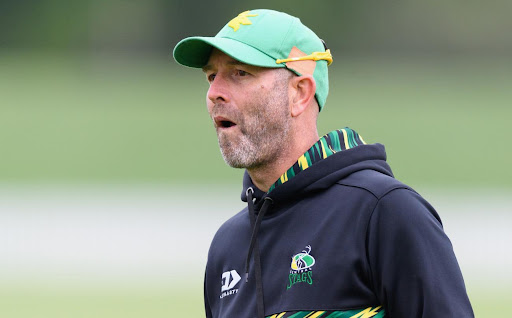 One of South Africa's two new coaches, Rob Walter, will be introduced soon
The new men's international coaches for South Africa will likely be introduced: Shukri Conrad and Rob Walter. Conrad was most recently in charge of South Africa's Under-19 team, and Walter will leave his position as head coach of Central Districts in New Zealand.
Former West Indies director of cricket Richard Pybus, current interim coach Malibongwe Maketa, and former national assistant coach Adi Birrel were all passed over in favor of the duo (who applied for the red-ball job only).
Lance Klusener, who was widely regarded as the favorite for the white-ball position, withdrew his application on Monday in order to concentrate on his T20 league work.
Following Mark Boucher's resignation last year, the appointments, which were overseen by CSA director of cricket Enoch Nkwe, will result in a split coaching structure for South Africa's men's teams.
South Africa conducted a similar experiment more than ten years earlier, handing the T20 team over to Gary Kirsten's assistant at the time, Russell Domingo, while Kirsten continued to lead the Test and ODI teams. In place of Kirsten as the all-format coach for six months, Domingo took over.
Whoever is given the white-ball role will start right away. It is not yet known which format will be coached by Conrad and which by Walter. In three World Cup Super League games beginning on January 27, South Africa will compete against England.
As South Africa still has hopes of making it to the World Test Championship final, despite losses in their two most recent series in Australia and England, the Test coach will have a lighter workload at the international level for the time being.
South Africa currently has only two matches scheduled, including one at home against the West Indies in March. The Test coach will act as an administrator for the first-class system during the lengthy intervals in between Tests.
Conrad and Walter have both spent a lot of time working in South Africa's domestic system. Under South Africa's previous domestic system, Conrad served as coach for both the Lions and Cobras franchises. With these two teams, he won four championships, including one first-class championship.
Since then, he has held positions as head coach of Uganda, national under-19 team coach of South Africa, and national academy coach of that country. With Dewald Brevis making a name for himself, South Africa placed seventh at the 2022 Under-19 World Cup.
Conrad then led South Africa to victory in the CSA T20 knockout challenge in October. It will be his first position as the head coach of a Full Member national men's team.
The same holds true for Walter, even though he has experience playing international cricket. Between 2009 and 2013, he served as South Africa's strength and conditioning coach.
Before relocating to New Zealand, his first position as a coach was as the team's head coach for the Titans, where he won three championships in three seasons.
Over the course of five seasons, Walter transformed the Otago Volts from a team that finished last in 2016–17 to one that was competitive. He transferred to the Central Stags in April 2021. Walter has also played for the Delhi Daredevils and Pune Warriors in the IPL.
Boucher, who was appointed in December 2019 with a four-year contract, is succeeded by the two. In order to lead South Africa to the 50-over World Cup later this year, Boucher was supposed to stay on. However, he announced his resignation in August 2022 while leading the team on a tour of England.
His most recent series was the T20 World Cup in Australia, where South Africa was eliminated from the semifinals after falling to the Netherlands. Since then, Boucher has been revealed to be the Mumbai Indians' IPL head coach.