Sarfaraz Ahmed stated he had to overcome anxieties the first time he came out to bat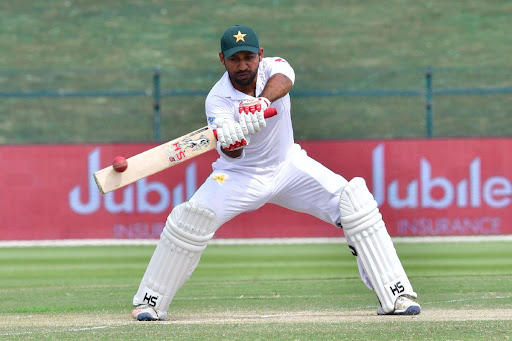 Sarfaraz Ahmed celebrates his outstanding century in the fourth inning
According to Sarfaraz Ahmed, the fifth-day century he scored on Friday in Karachi, Pakistan against New Zealand, was the best of his Test career. It nearly enabled Pakistan to complete an incredible chase.
Sarfaraz observed that batting in the fourth innings is always a challenging challenge during the post-game presentation after bad lighting forced a stalemate with Pakistan needing 15 more runs to chase down 319 and New Zealand needing one wicket to win.
"Definitely I have more hundreds, but this was a fourth-innings hundred and in the fourth innings, it is not easy to bat anywhere in the world. So I think this is my best hundred,"

Sarfaraz Ahmed said.
Following the dismissal of Babar Azam, Pakistan was four down for 77 when Sarfaraz entered the batting order. Shan Masood was also gone after two overs and three runs.
Before he gloved one down to leg slip off Michael Bracewell, Sarfaraz continued to score 118 runs while continuing to bat for nearly five hours, bringing Pakistan close to victory.
Safaraz completed a stunning comeback with the century. After losing his spot in the starting lineup in January 2019, he stayed on the periphery of the Test setup for four years but was unable to reclaim it.
He then recorded scores of 86, 53, and 78 before recording his fourth Test century after being selected in advance of the ineffective Mohammad Rizwan.
"I have been there with the team for four years and unfortunately I did not get a chance but whatever cricket came my way, my effort was to keep playing my game and keep giving performances and if Allah wants then I would get an opportunity and I did get an opportunity,"

he said.
Sarfaraz claimed that although his teammates and captain Babar gave him confidence, he was extremely tense.
"My state of mind wasn't very good when I came to bat the first time in the series. I was very tense, there was a lot of nerves,"
"But the captain gave me a lot of confidence and the boys in the team gave me a lot of confidence.
"I backed my form from domestic cricket and had a good performance."
As he put on a 123-run partnership with Saud Shakeel, Sarfaraz played the role of the aggressor. After Shakeel was out, he and Agha Salman set up a 70-run stand, but he said that after those two were dismissed, he had to play defence.
"The effort was that when there were 140 runs left, the message from the team management and the captain was that you go after the ball,"

Regarding the team's strategy on the last day, Sarfaraz. 
"But when the two wickets fell, I had to go a little on the back foot. But if those wickets hadn't fallen then, the result could have been a better one for us."