Rohit Sharma wants young bowlers to make the most of Jasprit Bumrah's absence in IPL 2023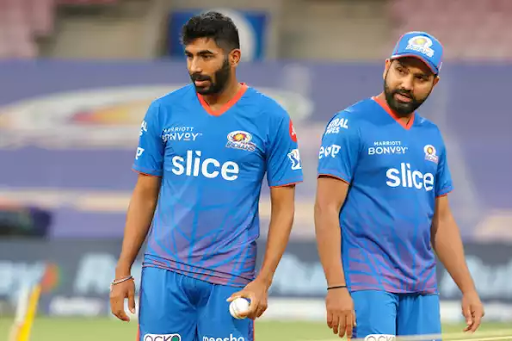 Rohit Sharma wants the young players to take the responsibility in the absence of Jasprit Bumrah
With star fast bowler Jasprit Bumrah all set to miss the entire season of Indian Premier league IPL 2023 for the five-time winners Mumbai Indians, their captain Rohit Sharma feels that it is an opportunity for the young bowlers in the squad to step up and make their mark.
While Jasprit Bumrah will be unavailable for the entire IPL 2023, Mumbai Indians will be pleased to have their another star bowler Jofra Archer back in the squad and ready to play for them for the first time ever in the IPL 2023 competition.
"Yes, we have been discussing a few options and hopefully we can close it in the next couple of days and let you know about it. There is an opportunity that is up for grabs, to fill that place. A lot of young players will get an opportunity and this is a platform for them to come out and express themselves.
There are a couple of guys who have been with this team for the last two years and they are very much ready to step up,"

Mumbai Indians captain Rohit Sharma said during a press conference before the start of the IPL 2023. 
Mumbai Indians have a new coach in IPL 2023 in the form of former South Africa wicket-keeper batsman and coach Mark Boucher, who has taken over the charge from former Sri Lanka captain Mahela Jayawardene.
Talking about the availability of Jofra Archer, who himself is coming of a long injury layoff, Boucher said, "One of the things about the international players is that they need the freedom to move around a bit. All of them have been playing cricket. Jofra obviously is coming off a major injury, he has been playing quite a bit of cricket lately, which is good. He's in a good space."
"He's ready to get up there and perform, which, for us, is a good place to be in. We will see tonight how he goes,"

head coach Mark Boucher said.
The IPL 2023 season will mark 10 years for Rohit Sharma as a part of Mumbai Indians, who have won five titles under his captaincy. "Ten years is a long time, obviously you are bound to create memories within that period. I have certainly enjoyed each and every moment of it; if you ask me to single out, I won't be able to do that," Rohit Sharma said.
"We have played some really good cricket over the past so many years. My experience with this team has been phenomenal, this team has given me a great opportunity to come out and express myself first as a player and then as a leader of the team. I have certainly grown as a player and as an individual as well. I have certainly enjoyed each and every moment of it,"

he added. 
The Mumbai Indians captain said the ultimate goal this year will be to win the IPL trophy once again. "That's the end goal (to win the IPL), we need to do a lot of things right to get there. The IPL is such a long tournament, it is the only tournament which goes on for two months, and you have to play close to 16-17 games to hold that trophy. We do understand what it requires to do that. The focus of the team will be to break it down and take it to two-half or three-half of the tournament and then see where we stand, and take things from there,"

he said.