Rohit Sharma continues to back Virat Kohli no matter what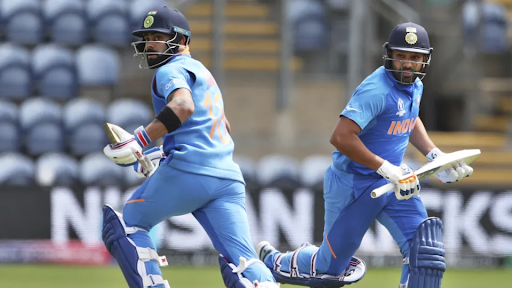 Virat Kohli (left) has been struggling for big scores for a while now
Both these cricketers may have a very passionate and divided fan base while controversial media reports might portray rift and divide between Rohit Sharma and Virat Kohli, but the reality is entirely different. 
Having taken over from Virat Kohli as the captain of Indian team across formats, Rohit Sharma refuses to be drawn into criticism of his senior batsman who has been struggling for runs and has not scored a century across formats for about three years now.
While Indian cricket fraternity continues to wait for Virat Kohli to score his 71st international hundred amid his shocking drought of big score, a new string of failures with the bat of Virat Kohli has set the world talking about his longevity and if it was time for him to take a short break from cricket — which he is going to get when India will tour the West Indies for limited overs series.
But for now, Rohit Sharma and Virat Kohli have one last match left on their ongoing tour of England to provide some answers to the critics and keep the promise of Virat Kohli driving, when India will take on the home team in the series decider for the ODIs in Manchester.
When asked about the discussion on all corners regarding Virat Kohli's form with the bat, Rohit Sharma was evidently frustrated.
"Kyun ho rahi hain, yaar. Matlab mujhe samajh mein nahi aata, bhai. (Why is this discussion happening. I can't understand this)".
"He [Kohli] has played so many matches. He has been playing for so many years. He is such a great batsman so he does not need reassurance. I pointed to this in my last press conference, too: form goes up and down, that is part and parcel of any cricketer's career. So a player like him, who has played for so many years, who has made so many runs, who has won so many matches, he only needs one or two good innings [to bounce back]. That is my thinking and I am sure all those who follow cricket will think similarly."
"We do have chats about this topic, but we should also understand and think when we talk about such things. We have seen that the performance of all players goes up and down, but the quality of the player never gets worse. That we all should keep in mind. That is very important. Yaar, matlab, bande ne itne run banaya hai (he has made so many runs), check his average, how many hundreds he has made, he has [vast] experience of doing that. There is a slump in every player's life. Even in the personal life it comes,"

Rohit said. 
Even the England ODI captain Jos Buttler expressed surprise over the criticism of Virat Kohli.
"I suppose in a little way it's quite refreshing for the rest of us that he [Kohli] is human and he can have a couple of low scores as well, but look he has been one of the best players, if not the best player in ODI cricket in the world,"

Buttler said.
"So he's been a fantastic player for so many years and all batters, it just proves, go through runs of form where they don't perform as well as they can do sometimes. But certainly as an opposition captain, you know a player of that class is always due, so you're hoping that it doesn't come against us."