Record 5-wicket Haul for 18-year-old Rehan Ahmed on Test debut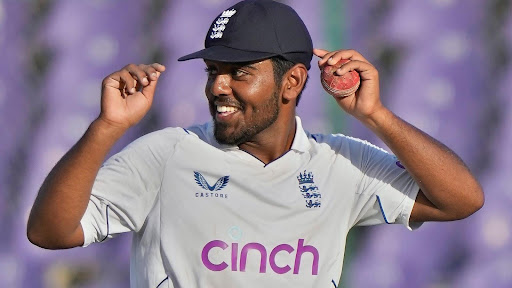 Rehan became the 53rd England bowler to take a five-wicket haul on Test debut
England's youngest test debutant leg-spinner Rehan Ahmed completed a five-wicket haul in Karachi in the third and the final test of the series against Pakistan.
Rehan took five wickets in his first Test match at the age of 18 years, 126 days, making him the youngest bowler to do so in men's history. On the third day of the Karachi Test, the leg-spinner took his fifth wicket, breaking Pat Cummins' previous record.
When Rehan took the wickets of Babar Azam, Mohammad Rizwan, and Saud Shakeel in a six-over span, Pakistan's Babar Azam and Saud Shakeel were putting together a solid partnership but England had the upper hand.
As Pakistan was knocked out for 216, giving England a target of 167, he took the final two wickets of Mohammad Wasim and Agha Salman to complete with a five-for on his debut.
Will Jacks had already accomplished the milestone earlier in the series when Rehan Ahmed became the 53rd England bowler to collect a five-wicket haul on Test debut.
Rehan Ahmed, however, has become the youngest player to accomplish this feat on his Test debut, thanks to his young age. When he was allowed to debut for England in the third Test, Rehan became the country's youngest Test player.
Suddenly, Saturday's title as the happiest day of his life was surpassed by Monday. "I still don't think it's sunk in yet," he said in his press conference. No doubt, by the time it does, he'll have already begun thinking of the next one.
After verifying the results as 5 for 48, Rehan Ahmed quickly gave God a bow (sajdah) before getting back up to receive more teammate embraces and then leading them out.
Before waiving and pumping his fist at his father and brother, Raheem, who were seated above the sight screen, he threw the ball into the air while showing it to the four corners of the ground. Raheem reciprocates the gesture tenfold.
Thanks to Rehan Ahmed, England entered the dressing room during the innings break with the typically carefree expectation that it may get it home by Tuesday morning.
Unfortunately, they will have to remain in Karachi and complete the quick 3-0 series victory before looking at any available flights on Tuesday evening.
For the 18-year-old, the fourth day of his debut Test will be the satisfying conclusion to a year that started with him being a mysterious member of the England Under-19 World Cup squad. His name is now widely known.
In the ICC U19 Men's Cricket World Cup earlier this year, Rehan Ahmed made an impression as England's second-highest wicket-taker with 12 wickets in four matches at an average of 12.58.
ECB contends that it's crucial to give children time to resolve issues at their own pace. But Ahmed already knows a lot of it. He has so much to share even though the article is still unfinished.
He has established himself as a significant difference-maker for an England squad full of them, even in such a high-pressure setting.