Quit playing cricket if spinners can't bowl on flat pitches – Saeed Ajmal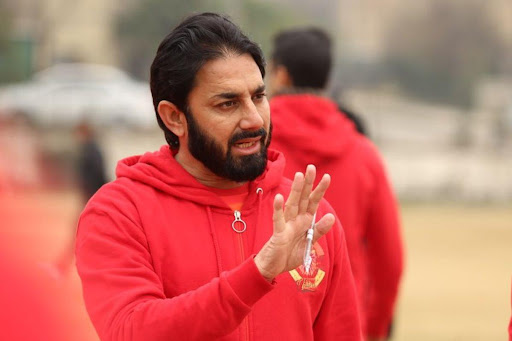 "If the spinner is going to look at the pitch and then bowl, what is the point of being a spinner then?" says Saeed Ajmal
Former Pakistan spinner Saeed Ajmal slams the bowlers for not bowling well on the flat wickets, says that if the spinners can't bowl on the flat wickets then what the purpose of being a spinner is.
Former Pakistan cricketer Saeed Ajmal says that after stepping into the ground and declaring the wicket as flat is already a loss and the spinners should be able to provide a breakthrough in every condition.
The veteran dusra-expert has slammed the mindset that flat pitches are an excuse for the bowlers for not being able to pick up wickets, especially for the spinners.
In an interview with Cricket Pakistan, Ajmal said that after stepping into the ground and declaring the wicket as flat is already a loss and the spinners should be able to provide a breakthrough in every condition.
"If the spinner is going to look at the pitch and then bowl, what is the point of being a spinner then? Spinners need to learn to perform in all conditions. These were flat pitches and honestly, many decks in Test cricket are like this,"

he said. 
"The notion that Pakistan always had spin wickets was never the case. Even when we were playing in the UAE, we had to spin the ball and it did not just magically happen."
"There are two things; one is where you spin yourself and the other where spin happens for you. These are two fundamentally different things. The one who spins himself can take wickets in any condition. Our problem is that we don't utilize the pace variations enough,"

Ajmal added.
"Nauman Ali bowled relatively well and the wicket of Cameron Green is a perfect example; the ball pitched on the leg side and spun to clip the middle and off-stump. Although there weren't many deliveries like that that is an example of how bowlers create opportunities when the track is not supporting you,"

he explained.
Ajmal strongly opposed the bowlers that they should quit cricket if they are unable to get wickets when it comes to the flatter wickets.
"To take wickets, you need temperament. You need to bowl a good 8-10 overs to play mind games with the batsmen and then you will be able to execute your plan. If you want to complain about 'flat pitches' then you should quit cricket,"

Saeed further added.
"When you go abroad, you prepare for bouncy pitches. In order to perform in India, you need to be good at playing spinners. For Pakistan, the only requirement is that the batsmen just know how to bat,"

Ajmal replied in response to the question regarding the pitch quality in the PAK-AUS Test series.
"Our strength can also be spin tracks and Australia don't necessarily play spin well. Nauman Ali picked up six wickets on a flat pitch, imagine how our bowlers will perform if the pitch conditions are a bit more suited to our spinners,"

said Ajmal.
The former off-spinner added that Pakistan does not have a proper off-spinner in their squad as both the spinners they are playing in the squad as orthodox off-spinners.
"The only way we win is by creating spin pitches and I 100 percent agree that Lahore Test match pitch should be prepared as such,"

admitted Ajmal.
The 44-year-old said that Pakistan created history while mentioning the efforts of Abdullah Shafique, Babar Azam, and Mohammad Rizwan who earned a famous draw in Karachi.
"To play 172 overs and then draw the match, is an incredible feat for Pakistan and it is worthy of never-ending praise. Even the opposition and Indians appreciated their efforts which also speaks volumes,"

he said.
Islamabad United coaching member Ajmal said that Babar Azam is a generational player and we don't see these kinds of players every day.
"Previously, it was Virat Kohli and now it is Babar Azam. These are generational players and you will not come across them all the time,"

he said.
He further claimed that Mohammad Rizwan is arguably the most improved player in the entire cricketing world at this moment.
"Mohammad Rizwan is the most improved cricketer in the world; he has played and performed in every format in which he has played. He has registered immense performances,"

he added.