Paul Stirling wraps in a return to Warwickshire, he will miss the England Test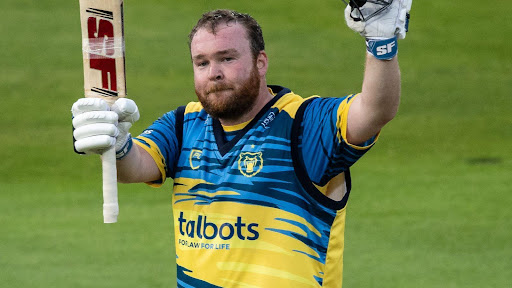 Last summer, Paul Stirling made his Bears debut and smashed 119 off 51
Paul Stirling has been hired by Warwickshire on a temporary basis to fill Glenn Maxwell's gap during the IPL season's closing stretch. The action seems to be a confirmation that he will not play in Ireland's June 1–4 Test match against England at Lord's.
Glenn Maxwell just reached an agreement that would keep him with the Blast team for the majority of the season, which runs from May 20 to July 15. But, he will miss the beginning of the season because he will be playing for Royal Challengers Bangalore in India.
At the beginning of the season, Stirling will compete in a small number of matches for Warwickshire, who will be playing as Birmingham Bears in T20. The exact amount will depend on how well RCB does. Their other international player is the Pakistani seamer Hasan Ali.
Last year, Stirling was available for the remainder of the competition. On his debut against Northamptonshire, he scored 119 runs off 51 balls, including a 34-run over bowled by the teenage seamer James Sales. After that, his output decreased, and he finished the season with an average of 24.07 and a strike rate of 174.86.
"We're very lucky to be able to call on somebody of Paul's caliber as cover,"

Coach for Warwickshire, Mark Robinson, stated.
"It's a short-term deal to cover what could be as little as one or up to three or four matches after the Blast Off.
"Paul made a big impact last season and the one over in which he hit five sixes and one four in an over will live long in the memory of Bears' fans. But he was also great to have in the Club and around the dressing room. He's a great lad with huge domestic and international experience."
On Tuesday, Cricket Ireland revealed that Stirling had been given a No-Objection Certificate, indicating that it is highly doubtful that he will play any part in their Test match against England at Lord's from June 1–4, which is four days after the IPL final in Ahmedabad.
Stirling was left out of Ireland's teams earlier this month for the upcoming Test matches against Bangladesh and Sri Lanka, and coach Heinrich Malan indicated at the time that Stirling would concentrate only on white-ball cricket until the 2023 World Cup in India.
"It was a mutual discussion over more than one coffee," Malan said at the time. "It's all about… making sure that we find a balance between him playing for Ireland and then obviously some of his commitments he has around the leagues."
"This year, with a big white-ball focus in terms of a pinnacle event in the World Cup, we got to that agreement that, up until the World Cup, he will only play white-ball cricket for us."
Ireland expects to participate in the qualifying tournament in Zimbabwe this summer, but they will need to defeat Bangladesh 3-0 in May and hope other outcomes go their way in order to qualify automatically for that competition.
They will also participate in the Scottish tournament in July that serves as the European Qualification for the 2024 T20 World Cup in the United States.