Pakistan batting coach defends Mohammad Rizwan's batting approach in the final of Asia Cup 2022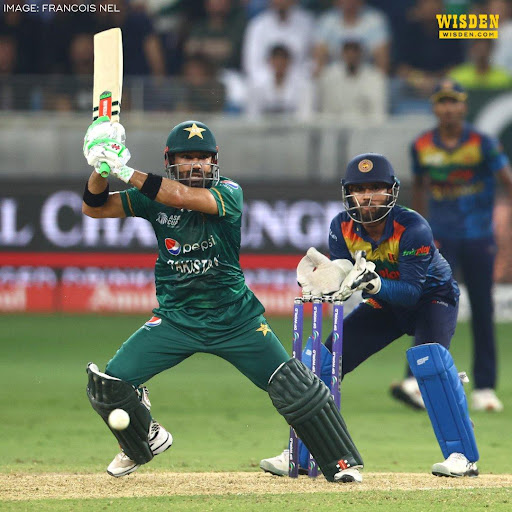 Mohammad Rizwan's turtle approach cost Pakistan the Final of the Asia Cup 2022
Before the Final clash of Asia Cup 2022 between Sri Lanka and Pakistan, there was only one team in the tournament that had won in Dubai after losing the toss and being inserted to bat first.
In the Final contest of Asia Cup 2022, Sri Lanka put on a gritty performance after losing the toss and being asked to bat first to earn a memorable victory by 23 runs.
Pakistan head coach Saqlain Mushtaq also adds his thoughts after the game. The former praised Sri Lanka that they won both the games against his side in the tournament while bowling first as well as batting first.
"If you're a champion team, you need to be a champion irrespective of whether it's first innings or second innings,"

Saqlain said at the press conference. 
"In the previous game, they asked us to bat first and won. In this game, we batted second and they still won. The way they played in both games, it's well-deserved."
One of the main narratives was Mohammad Rizwan's 49-ball 55. Although Rizwan helped Pakistan in recovering after the loss of early wickets it backfired as he was unable to accelerate the pedal and eventually left too much for the batters to come.
Ultimately, he got dismissed by Wanindu Hasaranga when Pakistan needed 61 off 23 balls. Saqlain, however, defended his opener and said that every player has his method of playing.
"Every team and player have their own style and method. The way we played, we reached the sseethei-finals of the T20 World Cup last year, we got to the final of an Asia Cup here. Evidence suggests you're doing something right to get here. You don't need to do what the rest of the world is doing [in terms of strike rates and showing more intent with the bat]. We'd rather focus on the small things we aren't doing right instead of looking at what others are doing. His andaaz [method] is not bad."
Saqlain also backed full support behind the skipper Babar Azam and said that he only had a few unlucky dismissals in the tournament. Babar scored 68 runs in the six innings he played in the Asia Cup 2022.
"I said it earlier too if someone looks at his batting, you'd just say he's unlucky, especially the way he's getting out. It's just a patch. If you look at the rankings, he's top in T20Is and ODIs. It's just been bad luck. The way he's training and playing it's amazing. His work ethic is top-notch. I don't need to say more.
When a question was asked whether Pakistan should have promoted Fakhar Zaman to start the innings with a left-hand-right-hand combination, Saqlain added that the think tank does not trust the combination.
"You need to show faith, trust and belief. If you keep shuffling, it sends a message that you don't trust them. After the second match itself, there was chatter about our batting shuffle. I don't follow social media, but you do hear the murmurs. You need to give time. If you keep shuffling, how will you know? Whatever we did, it's not good to shuffle a lot. It sends a wrong message."
Sri Lanka not only produced a good show with the ball but they also recovered well from a trembling batting collapse at 58-5. The foundation from there was laid by Bhanuka Rajapaksa, who smashed a brilliant 45-ball 71.
"The way they played today, we played just nine overs of good cricket. After that they dominated for 31 overs in all aspects,"

Saqlain said. 
"They have been playing brilliant cricket; credit goes to all the boys. Looks like they are on top of the world. The way they played against India and got momentum against Afghanistan, a lot of praise for all of them.
"I'll credit the Sri Lankans. We'd broken their backbone in the first nine overs, but the way Rajapaksa played, and the others rallied around him, no praise is enough. I'm sure it should be the best innings of his [Rajapaksa's] life. The way he lifted them, hats off."