Mushtaq Ahmad compares Rizwan's leadership role with Imran Khan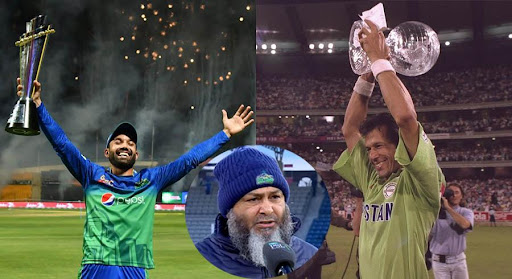 One of the most important things when it comes to winning is the leadership quality and Rizwan is a great leader
Former Pakistan legendary spinner, Mushtaq Ahmad gave all the compliments to Mohammad Rizwan for his great leadership skills and compares it to the all-time skipper Imran Khan.
The defending champions Multan Sultans have gained their spot in the final of HBL PSL 7, happening on Sunday against Lahore Qalandars, their commitments in the campaign were worth-watching as they won 10 out of 11 matches played in the tournament so far.
Talking to a Pakistani sports channel 'Cricket Pakistan', Sultan's assistant coach Mushtaq Ahmad talked about their brilliant performances in the seventh edition of Pakistan Super League (PSL). He said that all the praise goes to Allah Almighty and the players for their efforts and hard work.
"One of the most important things when it comes to winning is the leadership quality and Rizwan is a great leader. He keeps everyone in the loop and works with the players to execute the game plans,"

he said.
When asked about the fact of whether it is the captaincy that changed the game for Multan Sultans, the veteran spinner said that there are many factors to consider apart from just the captaincy.
"There are a lot of factors which come into play and you just don't focus on one element; for the players to trust their captain, the chemistry to be matched between the players and the captain. When players respect you as a captain or as a coach, they will automatically give more value to your opinions and will try to carry out the plans,"

he explained.
"It goes back to the adage which states that it is not the medicine that cures you but the belief you have in the doctor's treatment. So, Rizwan's captaincy was definitely a factor but the credit also is with the players for their togetherness,"

he added. 
Meanwhile, Mushtaq gave all the compliments to Mohammad Rizwan for his fine leadership skills.
"There are three things which are required in leadership. One, you have to be honest. Second, you have to lead by example and through your performances. Lastly, you need to be a decision-maker. All these three things are present in him [Rizwan]. He often tells players when he feels that they did not put in the effort. So, the balance between being soft and jolly while also firm is very important,"

he said.
"I remember when I conceded 70-odd runs in Brisbane and Imran Bhai came up to me and backed me for trying my level best. I think it is important to back your players as a leader because it gives you the desire to go out there and prove their belief in you. Rizwan is exactly this way and his leadership is hugely positive,"

Mushtaq further added.
He also raised the point of Multan's dependency on the opening duo of Mohammad Rizwan and Shan Masood to take things for MS.
"Whenever you have a tournament, there are always going to be 2-3 standout performers while other players chip in. For example, you look at Khushdil Shah and he won us three matches right towards the end. Every player has a role and once they start fulfilling it, the teams tend to perform better and better,"

he explained.
Shahnawaz Dahani was recently criticized for focusing a little too much on his celebrations. In response, Mushtaq said:
"This is Shahnawaz's strength. Always remember that you should never force players away from their strengths. His celebration ignites the spark not only in the team but also in the crowd. It is a means through which you relieve pressure as well. The only thing we have worked with him is to ensure that once play is happening, whether he is bowling or fielding, his complete focus should be on the game."
"I personally enjoy his celebration a lot and so do the entire dressing room and the crowd,"

he further added.