Michael Hussey, David Saker join England ahead of T20 World Cup in Australia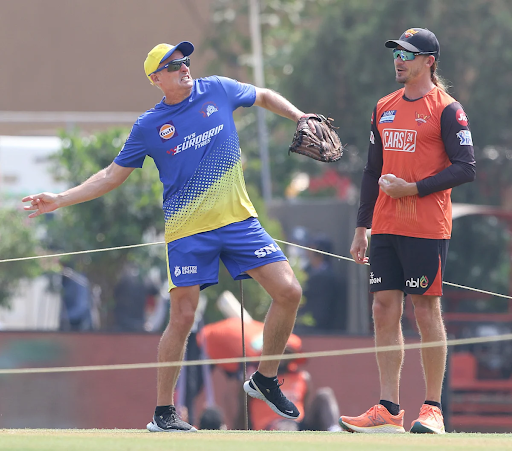 Michael Hussey (left) has had a very long and successful batting coach stint with four-time IPL winners Chennai Super Kings (CSK)
Ahead of the ICC T20 World Cup 2022 to be played in Australia starting mid October, England have added the Australian great Michael Hussey and renowned bowling coach David Saker to their coaching staff in order to bolster their preparations for the mega event.
Michael Hussey, who regularly features in the coaching staff of four-time Indian Premier League (IPL) winners Chennai Super Kings (CSK) and David Saker, who had been England's bowling coach from the year 2010 to 2015, will join Matthew Mott, the former Australian women's cricket team coach in an increasingly growing list of Australian coaches in English camp for the mega event which will be held down Under.
It was reported in ESPNcricinfo that David Saker will be joining the English side ahead of their tour of Pakistan which shall consist of seven T20 international matches while Michael Hussey will be linking up when the team reaches Australia ahead of their three match T20 series, which will precede the T20 World Cup.
The ICC T20 World Cup 2022 will have two groups — Group 1 and 2 — consisting of six teams each. The Group 1 will consist of teams Afghanistan, Australia, England, New Zealand, the winner from Group A (qualifying round) and the runner up of Group B.
Similarly, Group 2 will have the winner of Group B and runner up of Group A, while having arch rivals India and Pakistan along with South Africa and Bangladesh.
This group can in fact be described as the group of death since South Africa have become an incredibly strong unit across formats while India will be hurting from their disappointments in the last T20 World Cup as well as in the Asia Cup 2022. Pakistan are always an unpredictable team and the others will have to watch out.