McCullum aims to get rid of England from their fear of being a failure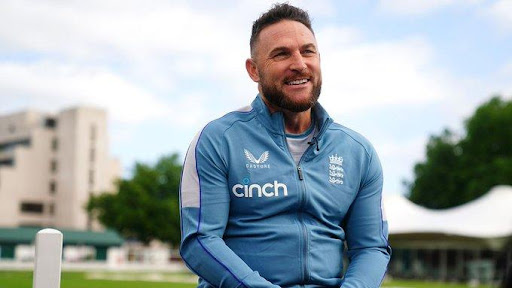 Brendon McCullum has been appointed as a coach for England in Tests
Brendon McCullum would have been a more appropriate choice to coach England in the limited-overs cricket but now he has been assigned to coach England in the Test cricket.
Former New Zealand cricketer Brendon McCullum would have been a more favorable coach for England in the limited-overs cricket but now he has been assigned the duty to coach England in Test cricket and he is not shying to take inspiration from the side in the white-ball cricket.
"I looked at what England has achieved in white-ball cricket, and what Eoin Morgan has done is what I'm hoping to do with Ben Stokes,"

he said at his unveiling as Chris Siverwood's successor at Lord's. 
"Why can't the same thing happen with the Test side? Ben wants to bring about that same freedom of mindset and strip away some of the noise that comes with playing at this level. My views are aligned with his.
England embarrassingly lost the Ashes to Australia which saw Silverwood being sacked as a coach and the series defeat in West Indies was a crucial point for Joe Root as a skipper. The consecutive losses saw the dwindling fortunes of England who are now ranked as low as sixth.
"It (taking England to No 1) is what we are all aspiring to do,"

McCullum said. 
"It will take a bit of time but we want to make sure by the Ashes next year we will be taking on the best teams in the world and are either beating them or are very difficult to beat.
McCullum who does not have any first-class coaching experience said that he spoke to Andy Flower and Trevor Bayliss, both of whom took the England coaching environment into different dimensions.
"Both Andy and TB were similar in their view that you've got to take pressure away from these guys. Maybe that's the thing with coming in from overseas. You can try to bring in a more simplified method. I can look at things with a different lens. I see guys who are maybe stuck with the fear of failure rather than the possibility of success. If we can take away some of the stuff that sits on the outside and brings baggage, then talent will come to the fore.
"My skills are not necessarily around taking a team from good to great. My skills lie in turning a team in a bit of trouble into one that has long-term sustainable success. If you are going to change your entire life for something, it has got to be a pretty big challenge. And opportunities like this don't come around too often.
"I'm very proud of my heritage and what I've achieved for my country. I've invested a lot of my life in trying to perform for New Zealand and I feel I left their camp in a better position than when I took over as captain. I'll continue to look out for a lot of the guys I've shared experiences with, but this is a job where you're being tasked with trying to bring about change and hopefully do something that lasts a long time into the future. That's a pretty enticing opportunity."
McCullum was candid about England's Test squad against New Zealand and he threw his weight behind Ollie Pope at Number 3.
"I picked Stokes, Root, Broad, and Anderson (smiles). No, I don't have intricate knowledge of the players the other guys have so I respectfully kind of sat back a little bit. It's not a massive difference yet from the team that played previously but there are a couple of subtle changes there which may be a sign of how we want to play the game.
"For instance, there's risk in playing Ollie Pope at three but all the guys in and around the side talk about how good he is and his potential. Let's see it in a position that's been difficult for the side. If he nails it, the middle order looks very, very good."
While Test cricket is still popular among several fans, the newly appointed coach has opined that England has to play exceptional Test cricket to inspire the upcoming generations.
"T20 and franchise cricket have given me a great life and I'm forever grateful for that. But for me, Test cricket is and always has been the pinnacle. A lot of people in the sport now look purely at T20 but wouldn't it be great if, in a couple of years, the next wave of youngsters coming through make Test cricket their No1 priority. Not just because the format's appealing but the personalities involved are good role models and it looks like a fun game.
"And if Test cricket is going to survive and thrive, England has to be at the top of the tree."