Mahmudullah remains in Bangladesh's World Cup plans, according to BCB president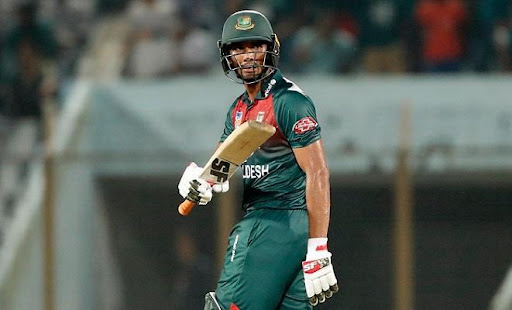 Over the past 12 months, Mahmudullah has played ODIs at a 43.8 average
Despite the fact that Mahmudullah hasn't played an ODI since March, BCB president Nazmul Hassan claims that he is still in the running for the World Cup. In the ODI series against New Zealand later this month, Hassan has hinted that the seasoned middle-order hitter will be included in the squad.
Mahmudullah's previous outing in an ODI was 11 games ago, in Bangladesh. Despite the selectors' claims that he had been "rested" at the time he was initially omitted, they continued to leave him off subsequent squads, including the one for the current Asia Cup.
In the 12 months before being suspended, he pitched 13 innings at an average of 43.8, but he scored his runs at a strike rate of 70.75, which is significantly lower than his career average of 76.17.
Although Bangladesh is still undecided of who to play at No. 7, Towhid Hridoy is seen as the hitter who has effectively replaced Mahmudullah. They can choose either an extra batter or an extra bowler because Shakib Al Hasan and Mehidy Hasan Miraz are both all-rounders, and they have alternated between those two alternatives.
Mehidy, who hit a century before retiring injured in their most recent Asia Cup match against Afghanistan, was moved to open, and Shamim Hossain and Afif Hossain were chosen as their Nos. 7 and 8, respectively.
Hassan claimed in May that Mahmudullah was still a part of Bangladesh's preparations, but the selectors have so far ignored him.
"I think he is [in the selectors' thoughts, I don't see why not. Our players are injury-prone like [Najmul Hossain] Shanto and Miraz yesterday. Mustafizur [Rahman] suffered in the first game. We need continuous replacements. We won't be able to cover the World Cup with eleven players. There's no need to take the standby players lightly."

Hassan said on Monday.
"The Asia Cup squad was supposed to be the World Cup squad but we have had to make several changes. Ebadot [Hossain] would have been in the squad if he was fit. Tamim [Iqbal] and Litton [Das] would have also been in the squad."

Hassan said Bangladesh have had to veer from their initial plan of naming the same squads for the Asia Cup and World Cup due to injuries. 
Hassan stated that Bangladesh would reveal their World Cup roster following the conclusion of the New Zealand series on September 26. Teams have until September 5 to name their rosters; however, they are allowed to make adjustments after that date.
"We have to give them [the ICC] a squad for logistical reasons. I think the main squad has to be submitted on September 27. You will all know after we see them in the New Zealand series. I think those who are in Dhaka will get to play against New Zealand."

Hassan said.
"We haven't been able to implement our plan. Tamim Iqbal and Litton Das were supposed to open in the Asia Cup but they are not in the team. I don't know if they have been declared fit. We can't make a team without them, can we? You have to understand our challenges. We have 17 players in the Asia Cup squad.
"The six in Dhaka are also capable players. Tamim and Litton will enter the fray, which makes it 25 players. We have to leave out ten players. Who to leave out? It won't be easy. Can we leave out those who are performing? We don't have to leave anyone out now."