Kane Williamson embraces Kemar Roach as a gesture of grief for the loss of his father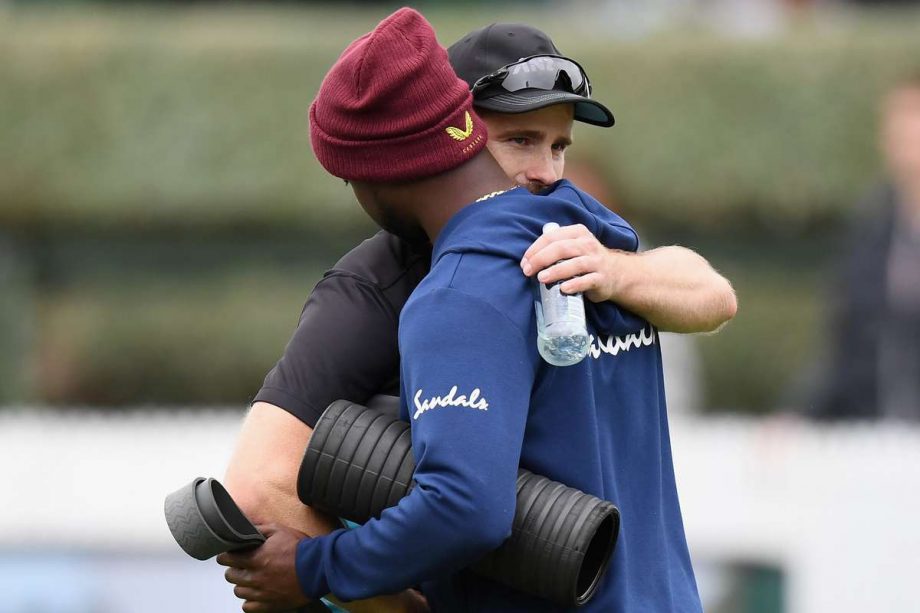 Windies Cricket
New Zealand captain gave a consolation hug to Kemar Roach, an attacking pacer of the West Indies, who recently lost his father. He gave this heartfelt gesture before the start of 1st test day 1. 
Kane Williamson is undoubtedly one of the coolest, calm, and adored personality in the cricketing world. He is famous worldwide among cricket and outside cricket because he is a class with the bat and his character and personality.
And he has given his fans another reason to shower love upon him by coming up with a warm, welcoming gesture to West Indian pacer Kemar Roach on the opening day of test match 1.
Kumar Roach, who is in New Zealand with the West Indian Test side, has recently lost his father.
New Zealand's skipper, Kane Williamson, embraced Kemar Roach before starting the first test day one in Hamilton. The gesture was a consolation to Roach as he lost his father recently. Kemar Roach's father, Andrew, recently died, and Kane Williamson set a great example of sportsmanship after giving a consolation hug.
Kane Williamson remained unbeaten on 97 as New Zealand reaches 243/2, but this 'Down to earth' act was breaking news of the day. New Zealand and West Indies are playing two test match series in Hamilton and Wellington.
"CWI extends deepest condolences to Kemar Roach and his family on the passing of his father. Both the #MenInMaroon and the @BLACKCAPS teams wore black armbands on the opening day of the 1st Test in his honour,"

West Indies cricket wrote in a tweet.
"On behalf of CWI and the West Indies cricket team, I offer condolences to Kemar and his family back home,"

said the team manager, Rawl Lewis, in a statement earlier.
Losing a loved one is never easy, and we want to offer our full support to Kemar during this very difficult time. We got the news as we prepared for the Test match here, and the players and team support staff all got together and offered tremendous support,"

he added.
Roach day one figure is 1/53 in 15 over's. He took a crucial wicket of New Zealand opener Tom Latham (86). Latham and Williamson stood for New Zealand, putting up a 154 runs partnership for New Zealand after the loss of opener Will Young (5) on 14 runs in the fourth over.
Ross Taylor (31) joined the captain till the end of the day. New Zealand ended the day on 243/2 in 73 overs. Due to the rain interruption, the match started a little late, and the West Indies could ball only 73 overs for the day, and the stumps were called. New Zealand won the T20 series 2-1 against the visitors recently.
Kemar Roach is a right-arm fast bowler of the West Indies who played 58 test matches for the side and picked up 197 test wickets at the economy rate of 27.53, with nine-five wickets hall.
The New Zealand skipper Kane Williamson has appeared in 90 test matches and scored 6476 with a strike rate of 50.99, following 21 centuries.