Joe Root and Ollie Pope made a 187-run stand as England reached 473-5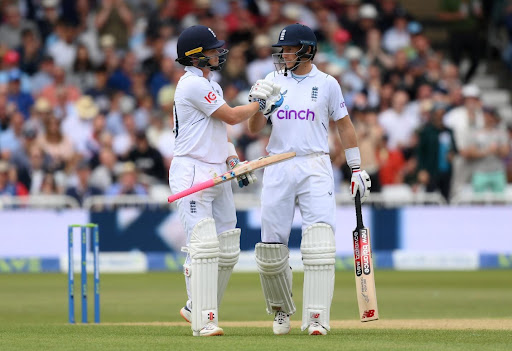 Ollie Pope and Joe Root hit the tons at Trent Bridge
Ollie Pope heaved a sigh of relief after scoring his first Test Century in England while his second test century came against Black Caps at Trent Bridge after what were a tough 18 months for the batter and put a 187-run stand with Joe Root.
Ollie Pope hurled a moan of help subsequent to scoring his most memorable Test century in England. His only second Test century came against New Zealand at Trent Bridge after what were an extreme year and a half for the hitter, who ended up elevated at No 3 and repaid the faith of the management with a 187-run stand with Joe Root that helped England inch towards New Zealand first innings total of 553.
He, however, fell 5 runs short of 150 but hoped that his second Test century, his first since January 2020, was a nudge in the right direction.
"It hasn't been the easiest ride over the last year or so,"

Pope said on Sunday (June 12). 
"A few tough tours away didn't play a massive amount last summer. Once I got over the line, it was a relief but I was just so happy. You have to take in those moments, which is something I've come to realize over the last year or so.
"I've tried to get into this mindset of whatever good cricket I'm playing, I don't want to look too far ahead or behind. 'Play where your feet are' is the saying we've got at the minute. You don't want to look at the bigger picture too much because that stuff isn't going to help you in the middle. But at the same time, 25 Tests, it's a great honour to have played that many Tests, but I want to be performing more consistently than I have over the last year or so. But I also feel I've learned a lot about my game and Test cricket and hopefully, I can take forward and use this as a starting point with the bank of knowledge I've gained already."
"The good thing at Trent Bridge is the outfield is rapid so it's amazing to bat on,"

Pope said.
"So once you do get in – I think I was 11 off 40-odd – suddenly you get a few away and then the scoreboard can just race away. That's something I always had in my mind. It might not happen to that extent at other grounds, but it was always in the back of my mind that if there was a tricky little period if I could get through that then there might be a couple of bad balls you could capitalize and get the score really moving forward."
Pope had the best seat in the house, watching Root compile another master class. The former Test skipper reached his century off just 116 balls his fastest in tests. Pope, expectedly, was effusive in his praise for Root.
"We're seeing England's greatest ever,"

Pope said, when asked about the experience of batting alongside Root.
"You don't want to necessarily replicate what he does but try to learn as much as I can off of him. Whether that's him throwing balls at you for 20 minutes at the end of the session, which he'll always happily do, and if he sees something – even from the mindset point of view, trying to pick his brains as much as I possibly can, especially while he's in this amazing run of form.
"The relentless nature of what he's doing is something I can really learn off. He wants success for his teammates as much as they do themselves, so it's a great attribute."