Jhulan Goswami: Most Memorable Spells in International Cricket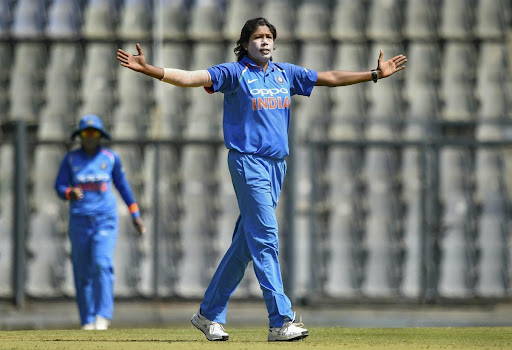 Jhulan Goswami celebrates after taking a wicket for India
India's veteran bowler Jhulan Goswami is all set to bid adieu to international cricket on September 24. Famously known as the Chakda Express, Goswami has been a pillar for Indian women's cricket over the years. 
She has been through all, seen it all, and has been a legendary name to have carried Indian women's cricket since her debut in 2002. She has represented India in 12 Tests, 68 T20 Internationals, and 201 One Day Internationals.
She also holds the record for the most number of wickets in Women's ODIs with 252 wickets in her bag. After quitting T20I in 2018 and playing her last Test match in 2021, now it is time for Goswami to say goodbye to the game forever.
Jhulan Goswami will be representing the Indian cricket team in three WODIs at Hove, Canterbury, and Lord's on September 18, 21, and 24 respectively. Let's recall a few of the spells from Goswami's career that will be cherished forever.
#5 India vs Australia, Vishakhapatnam T20I – 2012
Back in 2012, Jhulan Goswami churned out her best bowling figures in international cricket. In a T20I at Vishakhapatnam, she finished with figures of 3.5-1-11-5 and helped India win the match by eight wickets.
After Jhulan wreaked havoc, the Women in Blue bowled Australia out for 89 in 18.5 overs. After she got rid of Alyssa Healy in the third over, there was no stopping her.
#4 England vs India, Lord's ODI – 2017
One of Jhulan's most memorable spells came in the biggest of the stages although in a losing cause. One Day World Cup in 2017 was a watershed moment for the Indian cricket team as a perfect mix of youth and experience helped them to qualify for the final.
Jhulan Goswami along with Mithali Raj was the most experienced player in the team and the whole country looked up to them. Goswami opened the bowling and although she was economical, she failed to pick up early wickets.
Around the 30th over, England was nearing 150 and a partnership between Sarah Taylor and Nat Sciver started looking dangerous for India. Goswami returned for her second spell and immediately dismissed Taylor for 45, Fran Wilson for a duck next ball and Sciver soon after she got her fifty. India lost the match by just 9 runs but Jhulan's 3 for 23 will be remembered in the years to come.
#3 India vs England, Silchar ODI – 2005
One of the finest spells of Jhulan Goswami in One Day International cricket came against England at the SM Dev Stadium in Silchar. She claimed 5 wickets for just 16 runs in her 10 overs that included 3 maidens.
India thrashed England for just 50 runs and comfortably chased the target down in mere 14.5 overs. Goswami's Player of the Match performance stole the show and proved her mettle yet again.
#2 India vs England, Taunton Test – 2006
The 2006 Taunton Test saw the fiery Jhulan Goswami helping the Indian cricket team bundle out England for just 99 runs and take a lead of 208 runs in the first innings. India Women batted first to put up 307, thanks to Anjum Chopra (98) and Mithali Raj (65).
Goswami then took lead in destroying the England line-up. She took 5 wickets conceding just 33 runs (13-4-33-5) and helped India secure a good lead. Following on, England bounced back as the captain Charlotte Edwards scored 105 off 223. 
However, Goswami returned to claim 5 more wickets in the second innings too (36.2-21-45-5) which eventually helped India win by 5 wickets. She also became the first Indian woman cricketer to claim 10 wickets in a Test.
#1 India vs England, Delhi Test – 2005
Batting first India Women scored 289 to which visitors came up with 154 in their first innings. The speedster finished with bowling figures of 20-10-25-5 at Delhi and helped the hosts get a lead of 145 runs.
She started by scalping the wickets of Laura Newton and Claire Taylor followed by the England skipper Charlotte Edwards, Arran Brindle, and Rosalie Birch. In the second innings, Jhulan Goswami took one more, but it was her performance in the first innings that set the mood for her side in the drawn match.