It is something that I am working on – KL Rahul on his strike-rate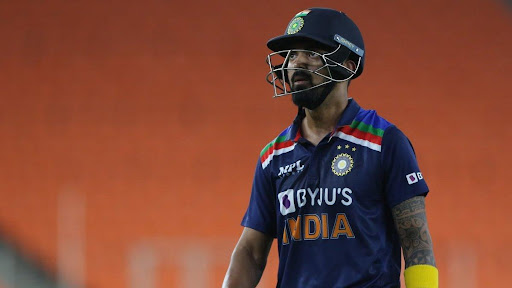 KL Rahul counters the criticism that he faced on his strike-rate
After being confirmed as an opener for India in the upcoming T20 World Cup, KL Rahul said that he has been working on his strike-rate and cleared on the role assigned to him in the team.
Indian Head Coach Rahul Dravid and the skipper Rohit Sharma have been talking about the positivity of the players at the top and the spotlight in on KL Rahul who has managed to fight an opening spot from Virat Kohli and is asked to maximize the Powerplay for India by improving his strike-rate which he once termed as "very overrated".
"Yes, it is something that I am working on,"

Rahul said on his strike-rate on the eve of the first T20I against Australia in Mohali. 
"Obviously with the roles that have been defined for each player in the last 10-12 months, you know very clearly and the player understands what is expected out of them and everyone's working towards it.
"No one is perfect. No one in the dressing room is perfect. Everyone's working towards something, everyone has a certain role to do. Obviously, strike-rates are taken on an overall basis. You'll never see when that batsman has played at a certain strike-rate, whether it was important for him to play at a 200-strike rate, or whether the team could have still won playing at a 100-120 strike rate. So these are things that not everybody analyses. That's why when you look at it, it looks slow."
Talking about his approach while batting first, KL Rahul said:
"It's T20 cricket, and the more you play and the more the game has evolved, batting first or batting second and at any stage of the game, you have to be aggressive. You have to be in the mindset where you are looking to hit boundaries.
"It is the same thing with me when I go to open the batting. When you are batting first, you want to give yourself three or four balls to understand how the pitch is behaving. And then try and see how you can put bowlers under pressure, how you can utilize the PowerPlay and get your team off to a good start.
"These are things that run in your mind, you speak to your partner, you help each other out. You have a discussion about the pitch, what are the shots you can play, what are the areas you can target, these are some things that you speak to each other, and you come up with a plan."
India has now upcoming series against Australia and South Africa to prepare for the T20 World Cup and Rahul saw his hopes in the current scenario that allows the players to make mistakes and get fail.
"The most important thing for a player in that dressing room is what his captain, coach and his (fellow) players think of him. Only we know what role is expected out of each person and everyone is trying to give their best. And not every time will a player succeed. That is the kind of environment we've created where players are not afraid to make mistakes or fail. We work the hardest for this," Rahul said.
"Criticism happens every time. We criticize ourselves more than any of you do. We dream of winning; We are representing the country, we want to win the World Cup all that is in our mind. When we don't do well, it hurts us the most. It's about what goes on in our team. We have a support staff and leader who not only appreciates when times are good but also in tough times when an individual has done well, they back us."