Indian superstar KL Rahul says he is mentally ready for all challenges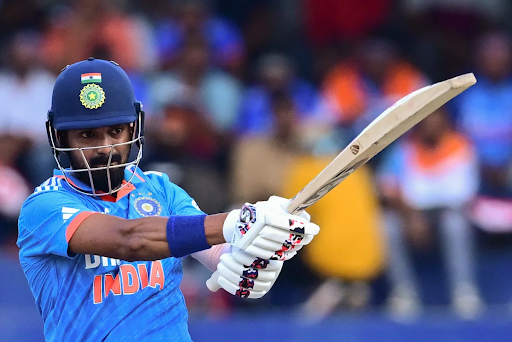 KL Rahul has made a strong comeback to the Indian team after a long injury setbac
India wicket-keeper batsman KL Rahul, who is a crucial player for the team at the number five spot, says that he is ready to face all sorts of challenges mentally after making a successful comeback in the ongoing Asia Cup 2023 in Sri Lanka.
KL Rahul was the last minute selection against Shreyas Iyer who suffered a back spasm injury minutes before the toss against Pakistan, with India captain Rohit Sharma being forced to call up the Karnataka wicket-keeper batsman, who has also captained India in the past.
KL Rahul did not disappoint as he slammed his sixth ODI century to make 111 not out while adding a record partnership with Virat Kohli to power India to their second highest total against archrivals Pakistan in an Asia Cup ODI which was played over two days thanks to rains.
"Five minutes before the toss, Rahul bhai told me you might have to play because Shreyas [Iyer] has a back spasm,"

KL Rahul was quoted as saying by Star Sports. 
KL Rahul said that since he did not come prepared to play the match, he was not having his equipment on the ground and the Indian team manager how to make a quick dash back to the team hotel to bring his sporting equipment sales the wicket-keeper batsman also kept wickets later on in the game.
"At the last minute, our manager had to run to the hotel to get my stuff. Strange things have happened in my career. This isn't the first time. It has happened earlier too. Mentally I guess I know what to do when I'm thrown into the ring, I give my best.
"I'm happy such performances happen [when he's been faced with such situations]. Maybe it's also a sign that I don't have to think too much. I can just go out there and enjoy my cricket. That's the learning for me,"

he said. 
Rahul revealed some little details of the challenges that he has to face upon coming back into the Indian team, which involved going through multiple tests in the lead up to his comeback match.
"I've had three [tests] done in the last ten days Two yo-yo tests, two practice matches, this [batting in the middle in humid conditions] was worse than that [yo-yo tests]. Yeah, for four months I've had a lot of juice, and energy. Hopefully, I can carry this, try to recover fast and come back fresh [for the Sri Lanka game],"

he said. 
KL Rahul once again thanked the staff at the national cricket Academy in Bangalore for helping him make a strong and successful comeback into international cricket after a long injury layoff. KL Rahul had suffered injury to his thigh during the first half of the Indian Premier League (IPL) 2023 tournament when he was captain of Lucknow Super Giants (LSG).
"Firstly, three out of the five months I spent getting fitter, giving my body the rest,"

he said.
"I was in great hands at the NCA. I want to thank the NCA staff and Rajni sir [Physio S Rajnikanth], he made me run around a lot. He's gotten me fit for this. I knew when I returned, I was aiming for the Asia Cup. I knew the conditions would be humid.
"I knew the World Cup that will follow at home would be challenging, especially to do both keeping and batting. I trained that much extra. Batting, when you're out and have a lot of time. I watched a lot of videos, and reflected on things where I can get better. I spoke to a few coaches, and I knew where the fault lines were, it was mostly mental, and I tried to address those things. I also came back fresh without any baggage, guess that helps."
"It was my first international match after a long time, the intensity isn't the same at a practice match. When I walked in, there was that nervousness. It took me 10-15 minutes to just calm myself down and get my feet moving, get my mind thinking about the right things,"

said KL Rahul while talking about his partnership with Virat Kohli, who slammed 122 not out from only 94 balls.