India vs Sri Lanka 1st Test: Virat Kohli to play his 100th Test match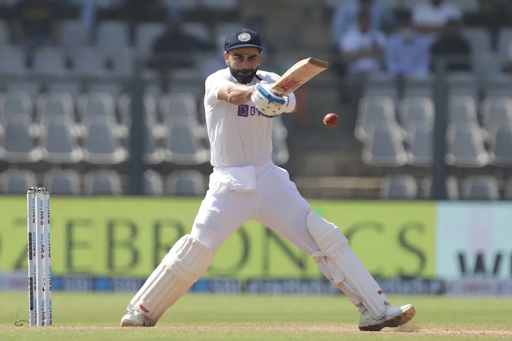 Virat Kohli needs another 38 runs to complete 8,000 runs for India in Test cricket
Former India captain Virat Kohli, who resigned from the leadership role after his team was defeated 1-2 by a lowly South Africa recently, is all set to create history by becoming only the 11th player from his country to play 100 or more Test matches. 
Kohli is all set to make his 100th Test appearance during the opening match of the two-game series between India and Sri Lanka, to be played at the Punjab Cricket Association (PCA) grounds in Mohali starting on Friday. The second and final Test of the series will be played in Bangalore from March 12.
Ahead of the historic moment, Kohli told the Indian cricket team's official website,
"I honestly never thought that I will play 100 Test matches. It's been a long journey. Played a lot of cricket over the course of these 100 Test matches, lot of international cricket. I am just grateful that I have been able to make it to 100. With the amount of cricket we play in this day and age, God's been kind. I have worked really hard on my fitness. It's a big moment for me, my family and my coach, who is happy and proud of this Test as long as I am concerned."
The run-machine Kohli is also set to make a batting record when he takes the field on Friday. Kohli is just 38 runs behind in an overall tally of 8,000 runs in Test cricket for India, a feat that has been achieved by only a very few and restricted players.
The right-handed middle-order batsman Kohli fondly recalls his maiden Test century in Australia in 2011-12 tour as one of his favourite knocks.
"I think my first Test hundred is something I remember very fondly. It's still very fresh in my memory. That is one day that will always be very, very special. Knowing that it came in Australia will be very special. It was an overseas hundred, for a young guy wanting to establish himself in Test cricket, for the first hundred to come in Australia really boosted my confidence."
Kohli has received a lot of praise and support for putting Test cricket above the others.
"I have put in a lot of effort, I have made sure that core moral values when it comes to the game remains intact, which is wanting to play Test cricket and wanting the purest form of the game to stay alive. For that we needed to play in a certain manner.
"I have given my heart and soul to this format. It feels great to contribute to my environment and to the culture in bigger ways than just strategies and plans and trying to get batsmen out and trying to manoeuvre bowlers,"

he said.