I will give myself 11/10 – Pollard on his performance as a captain versus India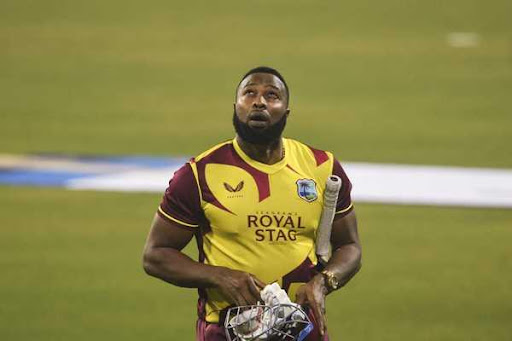 Kieron Pollard is happy with the performance of the players despite embarrassing defeat against India in ODIs and T20Is
Kieron Pollard is giving thumbs-up to his players after an embarrassing 0-3 defeat in the ODIs and T20Is. He says that we are trying to win cricket games and we are happy with the performances.
"Last game – 28 off seven balls – what are you expecting? Miracles?"
How would you rate your performance with bat and as captain? "I'll give myself 11/10."
The West Indian skipper Kieron Pollard was annoyed at times when asked about the 3-0 defeat against India in the three-match T20I series in Kolkata. But he was not upset or disappointed at the players with the way the players performed as a team.
He stressed the fact that they are learning from the mistakes done in the series and also the question that is being asked is not warranted.
West Indies lost the last match by a slight margin of 17 runs but their batters keep on putting Indian bowlers at their toes till the penultimate over.
"It just goes to show the fine line in international cricket between winning and losing, and the margins for error – when you are bowling or batting. I thought it was a good series. The guys put their hands up and gave a good account of themselves. I don't think we should be disgraced by what has taken place. Yes, we lost 0-3,"

he started.
"We are in a result-oriented business. There's a fine line – one way you are looking for results and then you are looking at what the guys can offer. We are not happy losing. It's not like we win, and if we lose, we lose. It's not like that at all. We are trying to win cricket games. We are happy with the performances. We don't have white-ball cricket for three and a half months so we have time to think about what's there for the future.
"Executing in the backend is something we need to work on. From a bowling perspective, for the first 15 overs of this game, we had India right where we wanted them to be. Right through the series, it was just a matter of finishing off the games in the backend. From a batting perspective, 157, 180 (178) and 170 (167) we did fairly decently."
Despite the consecutive losses in the three ODIs and the opening T20Is, West Indies did not feel to add changes in their playing X1, and in the final T20I, they add four changes to try a new combination for the ICC T20 World Cup 2022.
Pollard acknowledged the players have already been given the roles they will be performing in Australia during the World Cup and wants them to master the skills in executing the roles.
"Once you get the opportunity, you are pretty clear about your roles. It's not a matter of role clarity. It's about getting the experience of what is needed at the international level. There is a big difference in that,"

he said.
"We are not chopping and changing for the sake of it. The guys come in, play their roles, and then you go back and check if you played your role as an individual. That's about it as a team. We have to give guys opportunities and we have to win as well.
"Kyle got us one score. Again, a work in progress. Chase was a forced change in the first game and he actually bowled well. Cottrell bowled well, barring one over. The guys put their hands on different occasions, so it's a work in progress. Chase played well for the team. He came in and showed what he can do."
Pollard looked pleased with the performance of the left-hander Nicholas Pooran as he struck three consecutive half-centuries in the series. He took on the momentum from the England series where he got 144 at an average of 41 and struck them at 122.38.
"Nicholas was outstanding. Three fifties in three games. He had the consistency we had asked for,"

Pollard said.
"I don't want to take up the word consistency and take the word responsibility and make it sound like he has to do the job. At the end of the day, he's a young player and we want him to be consistent. We saw it in these three matches. In the England series as well, a couple of 20s and a 70 as well. We don't want to put all the responsibility and all the pressure on him. He's still learning his craft but he has what it takes to be a force to be reckoned with as a batter and as a leader in international cricket."