"I think they need to play more first-class games," says Russell Domingo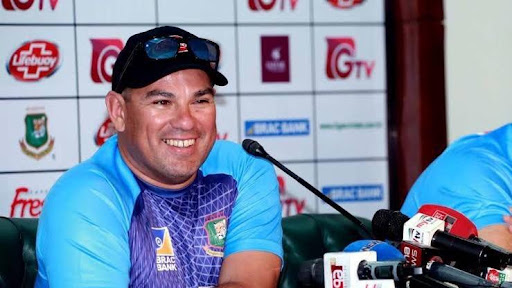 Russell Domingo says the number of games is important
Bangladesh head coach Russel Domingo asserted that they need to play more first-class matches to do well in the red-ball format, under his guidance Bangladesh has won 17 out of 23 ODI games.
Russell Domingo, the Bangladesh head coach, asserted that they need to play more first-class matches to do well in the red-ball format. Even though Bangladesh secured the ODI series against the West Indies, they were cleared away in both the Test series and the T20Is.
Since Domingo dominated, Bangladesh has won 17 out of 23 ODI games however they have barely figured out to come close to winning in the longer format, winning only three games and losing 15 of the 20 Tests.
"I am not here to judge any of the formats that are being played in Bangladesh. The big concern is of course the number of four-day games the guys play,"

Domingo told reporters on Friday when he was asked whether he feels the lack of quality in first-class cricket is responsible for their below-par performance in Test cricket.
"I think there are four-five (first-class) games a year. So Bijoy (Anamul) joined us on the Test team but hasn't played a red-ball game for over a year. That's difficult to do,"

he said.
"Maybe not the quality but the number of games and I think they need to play more games. Bangladesh 'A' tours are so important, as well as domestic four-day matches. The numbers of games are important and maybe they are not playing enough of it,"

he said.
"Can't talk of the standards as I haven't seen much of it. England is playing 15-16 four-day games a year, South Africa is playing 10. Australia is playing 11 or 12 and we have played four or five and Bijoy (Anamul) is a great example. To come into a Test team without playing four-day matches for over a year is very difficult,"

he said.
Anamul was added for the second Test against the West Indies after Yasir Ali dropped out and even played the game as they wanted to give rest to out-of-form Mominul Haque. The right-handed batter made 23 and 4 in his comeback game.
Even though Domingo blamed the lack of first-class matches, in reality, cricketers have the valuable chance to play nine first-class games a year as they six rounds of four-day games in the National Cricket League, the country's traditional first-class tournament.
They additionally play the Bangladesh Cricket League, the country's franchise-based first-class tournament that has three rounds of four-day games.
Domingo highlighted that he feels Taskin Ahmed is unlucky not to cut the ODI playing XI despite bowling well, due to the wicket and conditions.
"Taskin was hugely unlucky and it's just the conditions. Not difficult to figure out that any seamer who can bowl cutters and spin the ball away from the right-hander is going to be a better option.
"His (Taskin) slower deliveries are generally off-cutters coming into the right-handers. Just getting the ball away from the right-handers seemed to be the better option here and that's why we have two left-arm seamers at the moment. Taskin will play. He has been fantastic for us in this format. Just because of the conditions, it's unfortunate.
"The pitch conditions mean that we have to play an extra spinner so, it's difficult to play all the other fast bowlers since there is nothing in there for them at the moment. You want to play everybody but you need a balanced team suitable for those conditions. So might not be possible [to make many changes] tomorrow (today),"

he said.
Domingo revealed that he feels they need to now put all their focus on T20 cricket considering it is massively important for them, more so after they had done badly in the last T20 World Cup, failing to earn any win in the group stages.
"T20 World Cup is of massive importance to us. That's our main priority at the moment. The 50-over World Cup is still 15 months away and a lot can happen between now and then. We have got a lot of cricket to play before that. Our focus should be on this T20 World Cup and try to be competitive. We've never won a T20 World Cup game, so to go there and be competitive is a big challenge for us and we're very determined to try and win some games because we know we didn't have a good campaign last year,"

he concluded.