Harmanpreet Kaur thanked those people who gave her confidence in the crucial time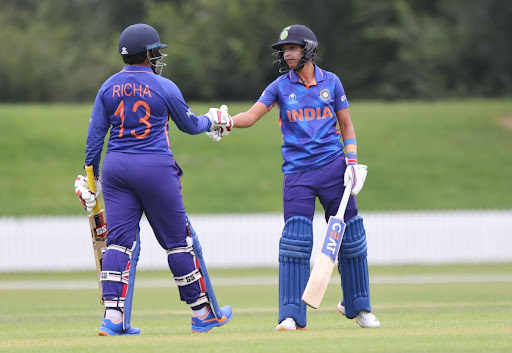 I think I set myself a standard with that knock, I know I can play that kind of cricket
Harmanpreet Kaur thanked those people who gave her confidence when she went through a rough patch while she was best known for her outstanding inning of 171 in the 2017 World Cup semi-final in 2017 against Australia.
Harmanpreet Kaur assembled an aggressive fifty against Proteas in an ODI in Kimberley in February 2018. At that time, very few would have expected that it was the start of the barren run in the 50-over format for one of the mainstays of the Indian batting unit.
However, in the next four years, Harmanpreet Kaur assembled just one fifty-plus score in ODIs. Thankfully from India's perspective, the senior cricketer returned to form ahead of the 2022 World Cup with a half-century against New Zealand in the last game of the series followed by a ton in the warm-up game against South Africa.
On her part, Harmanpreet thanked those people who gave her confidence when she went through a rough patch.
"Yes, there were ups and downs, the hundred I got (in the warm-up) has given me confidence. Even that innings against New Zealand was very crucial for me. Now it is very important for me to continue that,"

Harmanpreet said in the presser.
"I have high expectations of myself because I know my importance for the team. Even I want to do well, sometimes things aren't going to be in your favor.
"But the last two innings which I played gave me a lot of confidence. When things aren't in your favor, lots of people talk about it but the good part is those who are close to me have always given me confidence. I am thankful for them because during that time it is important to get confidence. I am getting back into my rhythm and I just hope I can continue this rhythm,"

she added.
Harmanpreet's name is identified with her outstanding innings of 171 in the 2017 World Cup semi-final against Australia in Derby. She said that 171 has set a standard for her. However, she added that more than numbers, her focus is on contributing towards the side's success by playing according to the team's needs.
"I know a lot of people talk more about my 171 knocks. I think I set myself a standard with that knock, I know I can play that kind of cricket. Maybe that's why my smaller crucial knocks of 30, 40, 50 – for whichever team are not getting enough importance. I don't think I judge myself with numbers. For me, what is important is irrespective of how much ever I score it should be enough for my team, irrespective of whether it is 100 runs or 10 runs. Numbers don't matter to me, what matters is whenever the team needs me, I should be there."
Harmanpreet, though, confirmed that she will bat at the number 5 position in the World Cup, with Mithali Raj set to take the number 4 position.
"All these discussions keep happening, you rightly said I'm more comfortable at number 4 than 5. Sometimes, you have to play according to the team's demands. But as of now, I think I'm going to play at number 5. But in the future, we can do it according to the match situation and role, but right now I don't think I'm going to play number 4, number 5 only will be my number."