Hardik Pandya, Deepak Hooda vital to India's T20I planning's witnessed in 1st England T20I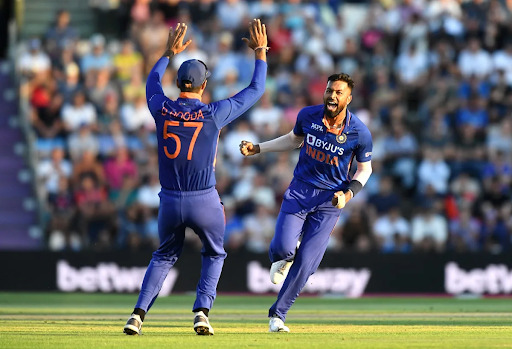 Deepak Hooda (left) and Hardik Pandya – two very important players for India at the moment
It is as if he wants the world to perceive him as an unstoppable, all-round force on the cricket field. Hardik Pandya may have missed about 3-4 years of quality cricket owing to sharp decline in cricketing fortunes and serious injuries, but he never gave up the dream of being called the best all-rounder in the rich repository of cricketers in India. 
Hardik Pandya continued his impressive run in T20 cricket as his all-round show – 51 and 4/33 – powered India to a massive 50-run win over England in the first T20I. In the same game, the young right-handed Deepak Hooda scored a brisk 33 to showcase his mettle too.
The year 2022 has perhaps been the best for the swashbuckling all-rounder — for he not only got to prove his leadership credentials in the Indian Premier League (IPL) 2022 tournament with the new team Gujarat Titans, but also showcased a very important trait that all captains desire but seldom achieve.
Indeed, captaincy is a tough job and for the leader it becomes difficult to concentrate on his own performances. But over the years, having played under senior cricketers who have always and invariably led by examples, such as MS Dhoni, Rohit Sharma and Virat Kohli, Hardik Pandya did not have too far to look.
He may not be holding a post per se in the Indian side, but every player has this invisible responsibility of being a leader within the playing group and in the playing XI, and Hardik Pandya seems to be picking up the pace just at the right time and prepare the best possible way for the T20 World Cup trophy which has eluded India since 2007.
At the same time, the rise of Deepak Hooda is critical for India — he is young, hungry, desperate to prove a point and has the game and attitude to take on the best in the field.
Against an old warhorse Virat Kohli who has been struggling for big runs, form and momentum and even confidence with the bat whenever he is in a pressure situation, the charm and composure of Deepak Hooda is as assuring as that of the right-handed Suryakumar Yadav.
Nowhere it is being insinuated that Virat Kohli is done with cricket for now and needs a break — whatever the time period be, something which has been suggested by a few former cricketers. Virat Kohli is as important to India as its incumbent captain Rohit Sharma, and as far as the old adage in cricket goes — that a good knock or a big score is just around the corner — the Indian cricket fraternity will hope that the batting maestro finds his rhythm.
Virat Kohli can relax for now knowing that there is no Test cricket scheduled for many months in the Indian cricket calendar and the pressure for him to score his first triple score — last coming in November 2019. He can now turn his guns on being the best T20 batsman that he can, maybe try and get into the mindset and zone that he had landed himself in IPL 2016.