Gujarat Titans beat Rajasthan Royals by 7 wickets to lift the IPL title in their debut season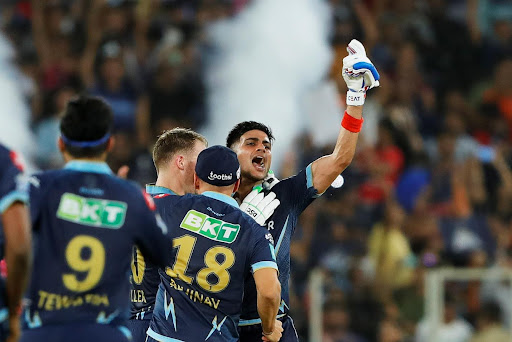 Gujarat Titans lift the Indian Premier League (IPL) title in their debut season
Gujarat Titans beat Rajasthan Royals by seven wickets in the Indian Premier League (IPL) 2022 Final to lift the title for the first time in their debut season on Sunday.
Nobody gave them a prediction but Gujarat Titans falsified all the pre-tournament predictions, shocking everyone by lifting the Indian Premier League (IPL) 2022 title by seven wickets victory over Rajasthan Royals on Sunday.
GT's highly-rated bowling attack led by the skipper Hardik Pandya (3/17) restricted the powerful batting unit of RR to 130 for 9 after losing the toss. Shubman Gill and David Miller remained unbeaten on 45 and 32 respectively to complete a historic win for their team.
It should have been an easy run chase but RR bowling bowled their heart out to make it an interesting Final contest. As they showed all season, GT remained calmed down throughout the contest to cross the winning line in 18.1 overs.
Not many gave GT a chance in their first season, especially after the mixed auction process where they waited till the end to secure the services of Wriddhiman Saha and Mathew Wade.
It was not the team with the star players but Hardik Pandya was impressed with his leadership skills and got the best out of his players.
His performance with the bat and ball contributed to the team's triumph in the final contest besides the ability to bounce back from any tough situation through the brilliance of David Miller and Rahul Tewatia.
After posting a below-par total, RR needed some extraordinary effort with the ball to get back into the game. The pace duo Trent Boult and Prasidh Krishna were outstanding in the powerplay, reducing GT to 31 for 2 with Wriddhiman Saha (5) and Mathew Wade (8) before going into the dugout.
Hardik and Gill struggled to get the boundaries but they never panicked as the asking rate was in control. The skipper fell to a brilliant leg break from Chahal but Gill and Miller got the job done for Gujarat.
The entire stadium with a capacity of more than one lakh chanted when Gill hit the winning six.
Earlier Hardik (3/17) struck thrice while Rashid Khan (1/18) kept the run rate under control to put his team under great control in the final stage.
Hardik Pandya:
The kind of support the support staff has shown for the players is wonderful. This is the right example for every team in the world that if you can play as a team, you can do wonders. I and Ashu pa are similar in terms of thinking. We like to have proper bowlers who can win matches on their own. T20s may be a batters' game but bowlers win you the games. From Ashish [Nehra], Ashish Kapoor, and Gary, to the logistic staff, the credit goes to the support staff. This title is going to be a special one because we talked about creating a legacy. The coming generations will talk about it. 
Sanju Samson:
This season is really special for us. We have been able to play good cricket and give fans some happy moments. All the youngsters and seniors played well as a team, I am proud of my team. We believe quality bowlers win you the tournament. So we invested in them. With Jos playing throughout 20 overs, my role was a bit different. It was a decent season for me, nice 30s and 40s, and 20s. But there is a lot to learn. And huge congratulations to Gujarat Titans. 
Jos Buttler, the Player of the Tournament:
Exceeded all my expectations for the season apart from today. A big congratulations to Hardik and his team, they are the deserving champions. My goal is to play for my time and try reacting to the situation. I had huge trust in everyone on the team even though who came up short today. [Message to his teammates] It's talking to myself as well. I have lost plenty of finals in my career but today has been a fantastic occasion. It has been an absolute privilege to play in front of a big crowd. [I would ask my teammates to] use this hurt to achieve more in the future. 
Yuzvendra Chahal receives the purple cap, and Jos Buttler the orange cap.
Umran Malik is the Emerging Player of the Season. Shami collects the award on his behalf.
I am very happy. Please keep supporting me, hopefully, I will give you more such performances. 

Malik says in a recorded message.
Hardik Pandya, the Player of the Match: [On his bowling]
I wanted to show what I had worked hard for. Today was the day I saved the best for. The second ball I bowled after getting Sanju out, I realized you could bowl that hard length. [on batting] I will take the trophy any day over striking at 160. My team comes first for me. Batting comes first to me, it's been always close to my heart. When the auction finished, I knew I would have to bat at No. 4. 
Gujarat Titans 133 for 3 (Gill 45*, Hardik 34, Boult 1-14) beat Rajasthan Royals 130 for 9 (Buttler 39, Hardik 3-17, Sai Kishore 2-20) by seven wickets.