Dinesh Karthik aims to lift the T20 World Cup title in Australia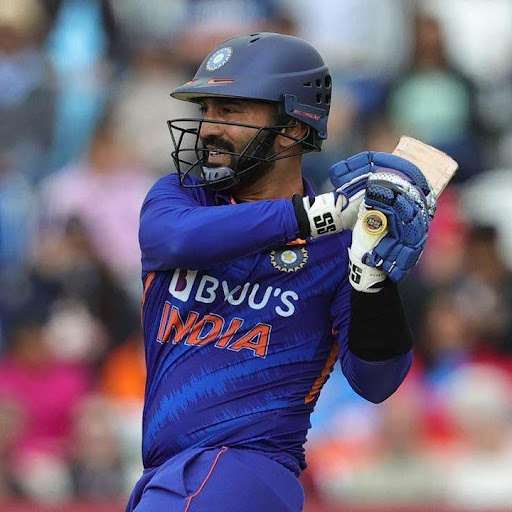 Dinesh Karthik set their eyes on the T20 World Cup in Australia
Dinesh Karthik says his ultimate goal is to lift the upcoming T20 World Cup title in Australia.
The veteran wicketkeeper-batter Dinesh Karthik who played a crucial role in India's victory against West Indies in the first T20 international, says his ultimate aim is to lift the T20 World Cup title in Australia.
Karthik smashed a powerful knock of 41 off just 19 balls at Brian Lara Stadium, performed the finishing job once again, and took India to a solid 190/6 after the visitors batted first. The innings he played, proved crucial for the team.
"These are small tick-boxes that we need to have at this point. But the ultimate goal is to do well in the T20 World Cup,"

Karthik told teammate Ravichandran Ashwin on BCCI TV.
The 37-year-old made his debut for India back in 2004 and was full of praise for the Rohit Sharma-led Indian team.
"I think this is a very different team and I am enjoying this setup. There is a great sort of calmness that is around the captain and the coach, a lot of credit must go to them,"

Karthik added.
In a career that spanned 19 years, Karthik was part of the Indian team that won the 2007 T20 World Cup and the ICC Champions Trophy in 2013.
Further talking about his batting, Karthik said that as a middle-order batsman and especially as a finisher, he needs to be quick on his feet and active in shot selection.
"I think both [mental and game] Ash. When you bat in the middle order, especially at the back end of the game, you need to be very quick on your feet in terms of assessing conditions, assessing the ball, what are the kinds of shots you can play.
"If you see when you came in, Jadeja had just got out, that was a very critical phase of the game that would have been the difference between a 165 and a 190. We stitched a very clever partnership I thought, running hard in between and then at the back end exploding and making sure that we get those boundaries but till then there was a phase where we had to absorb the pressure, which I thought we did well,"

he added.
Karthik lost his place in the Indian team in the 2019 World Cup semi-final but following a tremendous campaign for Royal Challengers Bangalore (RCB) in the IPL 2022, the right-hander found his way back into the national Indian team.