Clinical New Zealand amends mistakes to win series against West Indies: Player Ratings for the visitors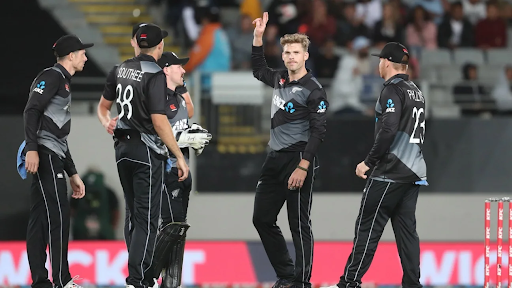 New Zealand defeated West Indies 2-1
New Zealand started the three-match ODI series against West Indies as the favorites, but the presumptions started changing when they lost the first match by 5 wickets. However, comprehensive victories in the last two matches saw the Blackcaps justifying their tag.
Let us check out the report card of the New Zealand players:
Batsmen
Martin Guptill (7/10): Being one of the most experienced players in the team, the onus was on Martin Guptill to lead New Zealand's batting unit. Though he was not the team's best batter, Guptill did a fairly decent job. The 35-year-old accumulated 84 runs in three matches at an average of 28.00 and a strike rate of 73.68. After failing to cross the 25-run mark in the first two matches, he scored 57 runs in the last match.
Finn  Allen (9/10): Given how he has been performing recently, it is safe to say that Finn Allen can be New Zealand's opener for many years to come. He was his team's joint-highest run-scorer in this competition, scoring 124 runs at an average of 41.33 and a strike rate of 82.66. 
Allen scored 25 runs in the first match, but his best knock came in the second ODI. The 23-year-old smashed 96 runs, almost bringing up what would have been his first ODI century.
Devon Conway (5/10): Devon Conway has also been doing well lately, and hence, expectations were high from him. However, the left-handed batter failed to impress, scoring only 66 runs from three matches.
His average of 22.00 and his strike rate of 69.47 did not help his cause either. However, it has to be noted that after scoring only 10 runs in the first two matches, Conway scored a half-century in the last match.
Kane Williamson (7/10): Skipper Kane Williamson played only one match in this series, and though it was not spectacular, his performance in that match was satisfactory. As he so often does, Williamson played the role of an anchor for his team, scoring 34 runs in 50 deliveries, which included 4 fours.
Tom Latham (7/10): Tom Latham is not the most flamboyant batter in a strong New Zealand team, but he is a utility player who chips in with important contributions in every format of the game. This series was not an exception.
Latham scored 81 runs, registering an average of 27.00 and a strike rate of 83.50. Like Conway, he could not perform in the first two matches but scored 69 runs in the third ODI.
All-rounders
Daryl Mitchell (9/10): Alongside Allen, Daryl Mitchell was New Zealand's most impressive batter in this series. Like the youngster, scored 124 runs and registered an average of 41.33, but his strike rate of 86.11 was better than Allen's. Mitchell got a start in every single match but could score only 20 runs in the first match. However, he made up for it by amassing 41 runs and 63 runs in the next two matches respectively.
Michael Bracewell (5/10): Michael Bracewell bloomed very late in his career, but he bloomed with a bang. Hence, many expected him to be New Zealand's trump card in this series as well, but that was not the case to be.
Bracewell scored only 51 runs in three matches at an average of 25.50 and a strike rate of 80.95. He was not impressive with the ball as well and failed to pick up any wickets.
James Neesham (6/10): James Neesham got two opportunities in this series, and like Bracewell, he could not justify his place in the team either. The all-rounder scored 35 runs at an average of 35.00, while his strike rate of 194.44 was certainly outstanding.
However, it is his bowling that remains a major drawback of Neesham. In nine overs, he conceded 61 runs at an economy rate of nearly 7 runs per over and picked up only a single wicket.
Mitchell Santner (8/10): Mitchell Santner did what he almost always does for the Blackcaps. He was neither his team's best bowler nor New Zealand's best batter, but he did enough of both to prove his mettle as a perfect all-rounder.
With the willow, Santner smashed 51 runs at a strike rate of 78.46, As for his spin bowling, he scalped 4 wickets in three matches at an economy rate of only 3.42 runs per over.
Glenn Phillips (5/10): Like Williamson, Glenn Phillips also played only one match in this series. He could not contribute much with the bat, throwing his wicket away after scoring only 9 runs. However, he did make up for it by picking up a wicket.
Bowlers
Trent Boult (9/10): Boult might have been making the headlines for controversial reasons in recent times, but when it comes to performing with the ball, he is proving time and again why he is an asset to his team. 
He was New Zealand's leading wicket-taker, having scalped 8 wickets at an average of only 15. Besides that, his economy rate of 4.61 runs is pretty decent as well.
Tim Southee (8/10): From the bowling perspective, Tim Southee was one of New Zealand's better performances against the Caribbean boys. The speedster picked up 7 wickets in three matches at an average of 15.42 and an economy rate of only 4 runs per over.
The lad from Whangarei got two wickets in the first match, but his best performance came in the next match, where he scalped a four-wicket haul. Besides his bowling, Southee also scored 16 runs.
Lockie Ferguson (4/10): Lockie Ferguson could have left a legacy like Southee and Trent Boult owing to his talent, but consistency has always been an issue with the fiery pacer. Even in this series, he was not seen at his best.
In the couple of opportunities he got, Ferguson picked up only one wicket in two matches while also conceding nearly 8 runs per over. In the match where he did get the wicket, he conceded 80 runs.