Brisbane Heat remains winless after losing a bizarre one to Adelaide Strikers at Gabba on Wednesday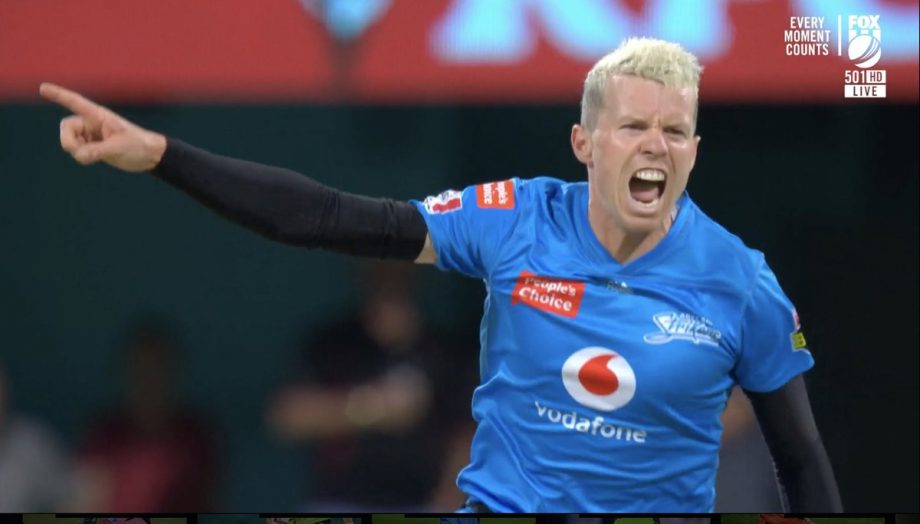 Adelaide Strikers/ Twitter
Brisbane Heat lost to Adelaide Strikers at Gabba on Wednesday to stay at bottom of the points table. It seemed an easy win for them but fans witnessed a bizarre game at the end after Heat lost the match by 2 runs. Rashid and Briggs were impressive to watch.
Brisbane Heat only required 150 to chase but miserably they fell on themselves after reaching 68/8 in front of a huge crowd at Gabba on Wednesday. Jimmy Peirson and Mujeeb Ur Rahman looked serious after Heat lost 8 wickets in no time. Wickets falling on each other but Peirson and Mujeeb came out of nowhere and put a record-breaking ninth-wicket partnership of 60 runs to put some life in the contest.
There was a little twist in the game by wicket-empire as he sent Tom Cooper back to the pavilion after he hit cover of the ball. For that, the umpire faced a serious criticism by Australian leg spinner, Shane Warne. He showed great disappointment over the wrong decision taken by the umpire.
"I feel for Tony, he's just made a mistake, but we've seen too much of it. If we want this competition to be up there with the best competitions in the world, I'm sorry, but it's not fair to us here at Fox, or at Channel Seven the rights holders, to pay for DRS. It's a Cricket Australia competition.
"We feel for these guys, it's nothing personal against each of the umpires … we know the umpiring position is such a tough job.
"But we just can't have these decisions and mistakes. It's human, we're gonna make mistakes, but we need to have DRS."
Moving forward, Peirson denied to run three times in the final over to complete the task all by himself but he failed as he managed to hit a boundary on the last ball of the over, Brisbane Heat gave away the match by 2 runs.
Peirson did a single hand job for Brisbane following his brilliant 69 off 36 balls.
The Heat had lost the captain and star performer of Brisbane, Chris Lynn to an injury he got during the warm-up. He had won the toss earlier and opted to bowl first.
It was an ideal start for Heat as they picked up the opener, Jake Weatherald in the very first over.
The Strikers were going with the decent pace after scoring 60/1 in 9 overs but then Mark Steketee came at the bowling end and he turned the game upside down after striking two wickets in two consecutive balls. Matthew Renshaw and Phil Salt were the preys.
Matt Short was next on the list as he was picked up by Xavier Bartlett on 12 runs.
Jonathan Wells stood for the side and put the Strikers back in-game with his less but important 31 runs after he got caught in the final over, Strikers finished the innings on 150/6 in 20 overs.
It was a nightmare start for Brisbane as Daniel Worrall struck in the second ball of the innings. Sam Heazlett was the goner, caught by Jake Weatherald.
Simon Milenko replaced Chris Lynn and he also did not like to stay. Danny Briggs bowled the second over and he was caught behind by the wicket-keeper, Matt Short.
Rashid Khan displayed his tricky cards and Max Bryant picked up one at the cost of his wicket. The Heats were in serious trouble after 25/3.
Dan Lawrence and Jack Wildermuth lost the wickets after over. Then Brisbane Heat was burned in ashes after Tom Cooper gave out even though he middle the ball.
Steketee was bowled by the skipper, Peter Siddle in the 13th over. Xavier Bartlett bowled a duck in the next over by Danny Briggs.
It was a real disaster for Heat after Peirson and Mujeeb scored a record-breaking ninth-wicket partnership to put some life in the contest.
But eventually, Mujeeb was bowled out by Siddle which brought Ben Laughlin to the ground with 20 runs to win.
No doubt, Peirson put on a great show in a match there was no life in but he refused to pick single three times in the final over which cost them the loss.