Bangladesh beat India by six runs in the last game of the Super 4 stage of the Asia Cup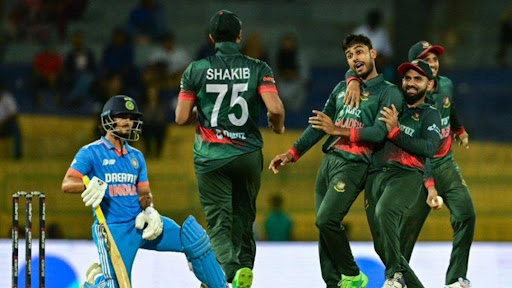 After the many heartbreaks Bangladesh has experienced in nail-biting matches against India, a victory in a close match against them is always appreciated, even though it may have been a dead rubber
Bangladesh displayed the depth of talent in the country as a new-look side with five changes kept the finalists and also World Cup favorites, India, down while the turnaround was created by Shakib Al Hasan's repair work with the bat and then fast bowler Tanzim Hasan shakib's spectacular debut with the ball.
India had won the toss and decided to field first. Bangladesh displayed the depth of talent in the country as a new-look side with five changes that kept the finalists and also World Cup favorites, India, down.
The turnaround was created by Shakib Al Hasan's repair work with the bat and then fast bowler Tanzim Hasan Sakib's spectacular debut with the ball despite Colombo providing a track that favored their spinners.
India also made five changes, giving opportunities to those who hadn't competed in the mega event. They kept ticking boxes – Mohammed Shami showed that he was ready for the World Cup, Gill ended a six-month century drought in international cricket, and Axar Patel came well with the bat. But, in the absence of Kuldeep Yadav, India's bowling struggled against left-handed batters.
Shakib and Nasum Ahmed scored 124 runs off 130 deliveries after Bangladesh had been 59 for 4 at one stage. Bangladesh's score of 59 for 4 could have been worse, but India missed four catching opportunities.
Two of those were Shakib and Towhid Hridoy when they were new at the wicket. Until then Shami, Shardul Thakur, and Prasidh Krishna had tightly controlled them.
When the ball was gripping the surface, the spinners allowed Bangladesh back into the match, which would dismay India. Shakib, who had first presented an unusual opportunity as he tried to counterattack, expertly transitioned through his gears with a slow recovery, easy singles, and then three sixes off left-arm spinners.
Hridoy continued his impressive tournament with a half-century that wasn't as quick as Shakib's but was skillful in its targeting of the bowlers, smacking two sixes off debutant Tilak Varma.
Thakur returned to remove Shakib with a played-on dismissal, Ravindra Jadeja followed it up with his 200th ODI wicket, but Bangladesh again came back from 161 for 6 in the 35th over to not only play out the entire overs but also managed 93 in the last 12.
Perhaps the most encouraging aspect of the victory was that Bangladesh released another impressive fast bowler despite having a completely lacking pace attack.
Tanzim made things difficult for India's top order with a whippy Mashrafe Mortaza-like action as the pitch started to misbehave more under the lights. He was able to get seam movement and uneven bounce out of the surface, in the process removing Rohit Sharma for a duck and bowling out Tilak when he shouldered arms.
Shakib didn't over-attack, instead trusting his spinners to tie the batters down for long enough to draw errors. He not only introduced but also trusted Mahedi Hasan's offs-pin because India had two strong right-handed batters at the crease.
Mahedi only allowed three runs to be scored off of his two overs, so KL Rahul, who was 19 off of 38, decided to take a chance, only finding midwicket because he got too close to the pitch of the ball.
Ishan Kishan attempted to reverse his way out of danger but never seemed at ease, and Mehidy Hasan eventually caught him lbw for 5 off 15.
Suryakumar Yadav struck what appears to be a decent 26 off 34, but it was clear that he lacked safe choices to keep turning the strike over against spin. Only two singles were made down the line, and he mostly used the dangerous sweep shot. He kept getting away until Shakib knocked back his off-stump.
However, Shubman Gill batted like a pro. It demonstrated how difficult the pitch was and how excellent the bowling was that even he occasionally had to keep patting offspinners' backs.
Even so, he was able to knock five sixes while skipping down the pitch and punish length errors by diving deep in the crease. His first century in a chase was also the most difficult of his five in a young career.
Gill didn't quite get the support from the other end. In his brief innings, Ravindra Jadeja was easily working singles, but when Mustafizur Rahman, the returning wizard, delivered two dots at him in the 38th over, Jadeja heaved uncharacteristically and was dismissed.
Now needing 96 off 74, Gill and Axar formed a counterattacking partnership, adding 39 in six overs, but Gill was done in by a brilliant bowling effort by Mahedi. First of all, it takes courage to bowl off-spin to a right-hand batter – that too Gill – in the death overs.
Additionally, Mahedi recovered from a huge six by slowing the ball down and taking it beyond Gill's reach, resulting in a misplay to long-off. Gill scored 121 of the 209 runs that came while he was at the wicket.
Axar kept India in the game despite being pummelling and bruised; his wrists and thighs were in agony. At 27 off 14, he somehow managed to hit the off-spin off Mahedi for successive boundaries to arguably put India in ascendence with two overs to go. However, Mustafizur had other plans.
Irony peaked when Thakur froze in shock after hitting a harmless low full toss straight to a fielder, but Axar was effectively put out by a slower off-cutter. Tanzim then finished strong as the last pair was asked to score 12 off the final over.
After the many heartbreaks Bangladesh has experienced in nail-biting matches against India, a victory in a close match against them is always appreciated, even though it may have been a dead rubber.
Shakib Al Hasan, Player of the match:
"We gave [chances] to the guys who haven't played much. We thought spinners would play a part, and luckily they did. I wasn't batting well during this Asia Cup, but today I had time to settle. When I hit my first boundary, it felt good. When the ball got older, spin was difficult to play. When Mahedi came on, it wasn't easy to bowl. He bowled five overs in a row in the end. I should give credit to Sakib (Tanzim) also. I think we have got a very good team [for the World Cup]. A lot of injuries, and players coming in and going out didn't help during this Asia Cup."
Rohit Sharma, the India Captain:
"We wanted to give some game time to the guys, keeping the bigger picture in mind. Not compromising on how we wanted to play this game. Get in some players who are likely to play in the World Cup. Axar batted brilliantly, but couldn't finish. He showed a lot of character. But credit to the Bangladesh bowlers. Not to forget, Gill's hundred was brilliant. He backs his game; he knows exactly how he wants to play. Pretty clear on what he wants to do for the team. Look at his form over the last year. Pretty solid against the new ball. Works hard; there's no optional practice for Gill."
Tanzim Hasan:
"First wicket of Rohit Bhai was a dream wicket. I just concentrate on line and length. I mentally prepare myself for a long spell. That ball (the last ball to Shami), I believed I could bowl the perfect ball. Very good feeling."