Andrew McDonald appointed as the Head Coach for the Australian team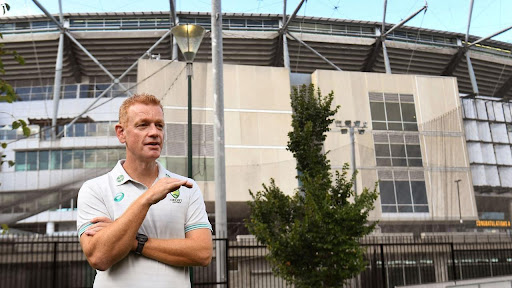 Andrew McDonald is appointed as head coach
Andrew McDonald has been appointed as the full-time head coach for the Australia men's cricket team says Cricket Australia while he had been the interim coach for Australia after Langer stepped down.
Andrew McDonald has been appointed as the full-time head coach for the Australia men's cricket team, says Cricket Australia.
He had been playing the role of an interim coach for Australia after Justin Langer's stepped down from the coaching.
Under his guidance, Australia had been done successfully against Pakistan where they steal a series in test and T20I format, McDonald has been offered a four-year contract.
"Andrew has already shown he is an outstanding Head Coach and the vision he outlined for the role during the appointment process was both impressive and exciting, making him our clear choice,"

CA chief Nick Hockley said.
"The journey so far has been particularly pleasing, and I am honored to be given this incredible opportunity for what is an exciting period ahead,"

McDonald said.
"We are proud of the way the team played and the respect shown throughout the tour of Pakistan under the leadership of Andrew, Pat [Cummins], and Aaron [Finch] and pleased Andrew is taking on the role permanently."
Besides his time as an assistant coach under Langer, McDonald has huge coaching experience having guided Victoria and Melbourne Renegades to domestic and BBL titles respectively.
As a coach, he completed the Sheffield Shield, Marsh Cup, and BBL treble in 2018-19. He has also been the head coach of Rajasthan Royals in the IPL.
McDonald said he was "honored" to be given the opportunity.
"My plan is to build on the growth, depth, and experience of the squad while working collectively with the group and across the game,"

he said.
"There are many challenges in the short-term which I know excites the leadership group, the players, and the staff. I'd also like to thank my family for their support."
"Once it was decided that I was a preferred candidate then I got an opportunity to sit down with Cricket Australia and the people around that to shape and formulate role,"

McDonald said.
"But it was a huge part of it. No doubt about it.
"I think the great challenge for coaches and players is to manage your workload across the four years, being my term at the moment. But I'd like to think that I've got coaching staff around that can step up. We can elevate certain coaches at different times to take on different tours and different challenges and whilst we're doing that it's growing the depth of our coaching staff."