Ajit Agarkar named India's chief selector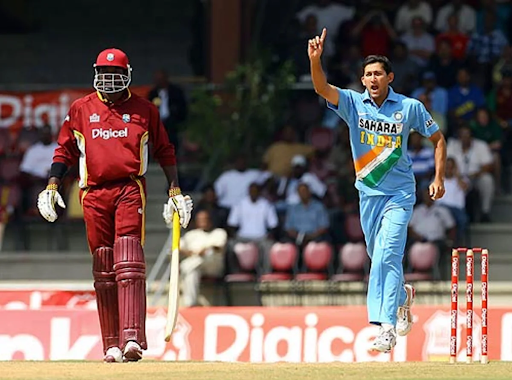 Ajit Agarkar is the most experienced member of the five-member selection panel of the Indian men's cricket team
Former India fast bowler Ajit Agarkar has been appointed as the chairman of the selection committee for the Indian national cricket team by the Indian cricket board.
Ajit Agarkar will be taking on the job a few months before the all-important 50 over World Cup which India will be hosting from October 5 to November 19 across 12 venues in the country.
The Indian cricket team has been without a chief selector for their men's team right from the time formal Chetan Sharma was exposed in a sting operation carried out by a TV channel and since then, former opening batsman Shiv Sundar Das was heading the four member panel on the basis of this experience.
The 45-year-old Ajit Agarkar is now the fifth member of the Indian cricket team's selection panel for the men's team which includes Shiv Sundar Das, Salil Ankola, Subroto Banerjee and S Sharath.
Ajit Agarkar played 26 test matches and 191 one-day internationals for the Indian team and with his experience, he is the most experienced player in the five-member panel as per the BCCI rules and is henceforth the chairman.
It has been reported by ESPNcricinfo that Agarkar was voted as a choice which was believed to be common between all the members of the cricket advisory committee which included Ashok Malhotra, Sulakshana Naik and Jatin Paranjpe.
It has not been confirmed whether Ajit Agarkar was the only applicant for the role of the Indian chief selector for which the BCCI had put out an advertisement which had a deadline of June 30.
It is for the second time in his life that Ajit Agarkar will be a selectors of any cricket team given that he was in the same job with domestic giants Mumbai for two years between 2017 and 2019.
Till very recently, the former right from all possible fast bowler was among the coaching staff of the Indian Premier League (IPL) team Delhi Capitals and exited only a few days ago, which in a way confirmed his application for the role of an Indian selector.
The Indian cricket team has a busy season ahead as they are currently in the West Indies preparing for their full tour which includes two test matches, three one-day internationals and five T20 internationals starting on July 12.
After returning from the West Indies, the Indian team is expected to play a limited overs series against Afghanistan at home while they are also slated to play in the Asia Cup 2023 which will be held in Pakistan and Sri Lanka.
The Indian team is also bound to the Asian games which will be played in China in September, but it is not expected that all the regular members of the squad will go, since the important World Cup is starting on October 5 and a lot of time would be required along with a lot of preparations for the biggest event this year in the country.